2012 Cannes Film Festival: 70 Predictions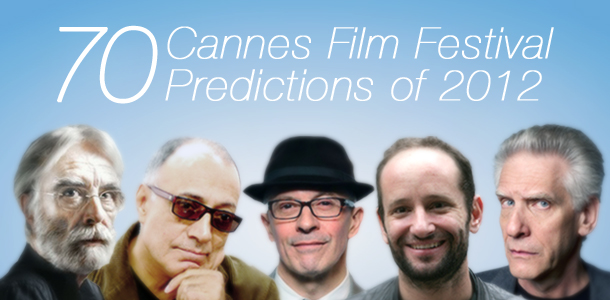 On April 19th of next week, Cannes Film Festival's Thierry Frémaux will squash rumors, confirm what we already know and essentially pluck a handful of filmmakers from obscurity in announcing what titles, what filmmakers will be a part of the longstanding May tradition. According to both Blake Williams and I, we'll have a stream of highly anticipated works from Cannes habituals loading up both the Main Competition (approximately 19-21 titles) and Un Certain Regard line-ups, but Cannes wouldn't be Cannes without the competing parallel sidebars, without Camera d'Or hopefuls, and this year we've got new bosses in town in first term artistic directors in Edouard Waintrop (the Directors' Fortnight) and Charles Tesson (Critics' Week). How will curate their sections? What countries., filmmakers and themes will be explored is what we have attempted to decipher prior to any announcements by sticking to a tradition of ours on the site: to speculate on what we think will show up.
What we do know is Wes Anderson's "Moonrise Kingdom," will open the 65th Cannes Film Festival – kicking off the festivities on May 16th at the Grand théâtre Lumière and what we anticipate is some kind of love to be extended towards master filmmakers no longer with us Claude Miller, Theo Angelopoulous and Raúl Ruiz. Aside that your guess is as good as ours. So enjoy our list of 70 (for individual descriptions – simply click on the titles below), as we look forward in reporting where we went right and where we went wrong.
7 Days in Havana – Benicio del Toro, Pablo Trapero, Julio Medem, Elia Suleiman, Gaspar Noé, Juan Carlos Tabio, Laurent Cantet
A Pigeon Sat on a Branch Reflecting on Existence – Roy Andersson
A Spell to Ward Off the Darkness – Ben Rivers & Ben Russell
A última vez que vi Macau – Joao Pedro Rodrigues and João Rui Guerra da Mata
Adieu au langage – Jean-Luc Godard
Les adorés (Tied) – Hélène Fillières
Amour – Michael Haneke
Angel's Share – Ken Loach
Ashnaee ba Leila – Adel Yaraghi
Augustine – Alice Winocour
Beasts of the Southern Wild – Behn Zeitlin
Behind the Hills – Cristian Mungiu
Berberian Sound Studio – Peter Strickland
Big House – Matteo Garrone
Blondie – Jesper Ganslandt
Circles – Srdan Golubovic
Cosmopolis – David Cronenberg
Das Ende der Kindheit [The End of Childhood] – Philip Koch
Dream and Silence – Jaime Rosales
Evil Woman (Mala) – Israel Adrián Caetano
Fairy Queen – Jean-Paul Civeyrac
Full Contact – David Verbeek
The Funeral (aka The Burial) – Terrence Malick
Gabo and the Shadow – Manoel de Oliveira
Goltzius and the Pelican Company – Peter Greenaway
Historia de la meva mort / Story of My Death – Albert Serra
Holly Motors – Leos Carax
History of the Arkanar Massacre – Aleksei German
In Another Country – Hong Sang-soo
In the Fog – Sergei Loznitsa
In the House – Francois Ozon
J'enrage de son absence – Sandrine Bonnaire
Journal de France – Raymond Depardon
Kiss of the Damned – Xan Cassavetes
Last Supper – Lu Chaun
Laurence Anyways – Xavier Dolan
Like Someone in Love – Abbas Kiarostami
Lines of Wellington – Raúl Ruiz
Lore – Cate Shortland
Loving Without Reason (Aimer à perdre la raison) – Joachim Lafosse
La Maison de la Radio – Nicolas Philibert
Mamac – Aida Begic
The Master – Paul Thomas Anderson
No – Pablo Larrain
On the Road – Walter Salles
Oxhide III – Liu Jiayin
Paradise – Ulrich Seidl
The Patience Stone (Syngue sabour) – Atiq Rahimi
Petit'Argentina – Pablo Agüero
Pieta – ‎Kim Ki Duk
Post Tenebras Lux – Carlos Reygadas
Rhinos Season – Bahman Ghobadi
Roman Polanski: Odd Man Out – Marina Zenovich
Room 237 – Rodney Ascher
Rust & Bone – Jacques Audiard
Simon Killer – Antonio Campos
Something in the Air (Apres Mai) – Olivier Assayas
Stoker – Park Chan-wook
Suicide Shop – Patrice Leconte
Superstar – Xavier Giannoli
Tree Shade – Pedro Gonzalez-Rubio
Upside Down – Juan Diego Solanas
Voyage of Time – Terrence Malick
Vous n'avez encore rien vu – Alain Resnais
The We and I – Michel Gondry
When The World's On Fire – James Clauer
White Elephant – Elefante Blanco – Pablo Trapero
Wolf – Bogdan Mustata
Yellow – Nick Cassavetes
A Glimpse Inside the Mind of Charlie Swan III – Roman Coppola