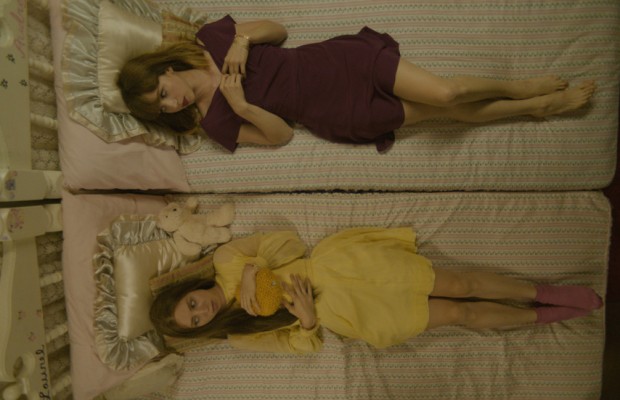 It wasn't the best of years for the '13 edition of the Tribeca Film Fest, but there were a couple of mention-worthy items on display and one of those was Jenee LaMarque's comedy-sketcher. Featuring Zoe Kazan (she'll next be seen in Brin Hill's In Your Eyes) doing double duty a la split screen with stand-end, Indiewire reports that Dada films have plucked The Pretty One and are setting it up with a February 7th release in New York and Los Angeles.
Gist: This is described as a heartfelt comedy that explores loss and awakening through Kazan's duel role as identical twins Laurel and Audrey. After the loss of her sister Audrey, Laurel must decide between continuing her life pretending to be Audrey or revealing herself as a fraud to her neighbor and love interest (Jake Johnson).
Worth Noting: LaMarque's short film, Spoonful (link) was part of the 2012 Film Festival.
Do We Care?: If you're looking for whimsical quirky comedy or consider yourself a Kazan fan this one might be for you.

Eric Lavallée is the founder, editor-in-chief and film critic at IONCINEMA.com (founded in 2000). Eric splits his time between his home base in Montreal, NYC, and is a regular at Sundance, Cannes and TIFF. He has a BFA in Film Studies at the Mel Hoppenheim School of Cinema. In 2013 he served as a Narrative Competition Jury Member at the SXSW Film Festival. Top Films From Contemporary Film Auteurs: Almodóvar (Talk to Her), Coen Bros. (Fargo), Dardennes (La Promesse), Haneke (Caché), Hsiao-Hsien (Three Times), Kar-wai (In the Mood for Love), Kiarostami (Taste of Cherry), Lynch (Mulholland Dr.), Tarantino (Pulp Fiction), Van Sant (My Own Private Idaho), von Trier (Breaking the Waves)
You may also like...
Zachary Wigon (The Heart Machine)
"to know someone, you really have to be granted an unimpeded view into the intimate details of their life, and this is something that we think technology affords us" Read more

Review

Advertisement

Interviews

In Theaters

19 Dec

The Gambler

05 Dec

The Barefoot Artist

03 Dec

Zero Motivation

14 Nov

Foxcatcher

07 Nov

An Open Secret

31 Oct

A Girl Walks Home Alone at Night

31 Oct

Horns

24 Oct

Force Majeure

Laggies

Revenge of the Green Dragons

Masthead

Facebook
Coming Soon
12/24/14
12/31/14
01/16/15
02/27/15
03/06/15
04/03/15