The Tree of Lincoln; Amplify to Face Adversity with A.J. Edwards' "Better Angels"
By Eric Lavallee on March 10, 2014
@ioncinema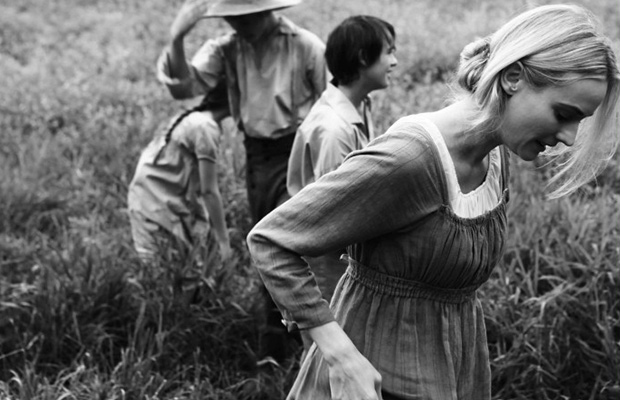 Joining their other Sundance pick-up (God Help The Girl), the folks at the newly minted Amplify have picked up the rights to A.J. Edwards' Sundance-Berlin preemed directorial debut. Topping Jordan M. Smith's 2014 Sundance Film Fest slate, The Better Angels will be set for a theatrical release in fall.
Gist: This is a story of the childhood of one of America's greatest leaders, Abraham Lincoln. Spanning nearly three years in the stark wilderness of Indiana, it tells of the hardships that shaped him, the tragedy that marked him forever and the two women (Brit Marling and Diane Kruger) who guided him to immortality.
Worth Noting: Edwards has worked on Terrence Malick items such as The New World, The Tree of Life, To The Wonder, and Knight of Cups.
Do We Care?: In his 4 1/2 star review, Jordan suggests that "The Better Angels is nothing if not an incredibly alive, wholly cohesive work that rides on the back of Malick's prodigious approach to filmmaking, while sticking more firmly to narrative stringency than his mentor's last few endeavors." Chalk this up as a must see.
Eric Lavallée is the founder, editor-in-chief and film critic at IONCINEMA.com (founded in 2000). Eric splits his time between his home base in Montreal, NYC, and is a regular at Sundance, Cannes and TIFF. He has a BFA in Film Studies at the Mel Hoppenheim School of Cinema. In 2013 he served as a Narrative Competition Jury Member at the SXSW Film Festival. Top Films From Contemporary Film Auteurs: Almodóvar (Talk to Her), Coen Bros. (Fargo), Dardennes (La Promesse), Haneke (Caché), Hsiao-Hsien (Three Times), Kar-wai (In the Mood for Love), Kiarostami (Taste of Cherry), Lynch (Mulholland Dr.), Tarantino (Pulp Fiction), Van Sant (My Own Private Idaho), von Trier (Breaking the Waves)
You may also like...
Trieste Kelly Dunn
"I focused on feeling wronged and that something was taken from her, and that taking it from someone else who deserved it felt heroic and right, despite it being wrong and irrational." Read more

Review

Interviews

In Theaters

23 Jul

18 Jul

11 Jul

09 Jul

04 Jul

02 Jul

27 Jun

13 Jun

06 Jun

30 May

Masthead

Facebook
Coming Soon
08/08/14
09/26/14
09/30/14