Top 100 Most Anticipated Films of 2013: #30. Pedro Almodóvar's I'm So Excited
By Eric Lavallee on January 14, 2013
@ioncinema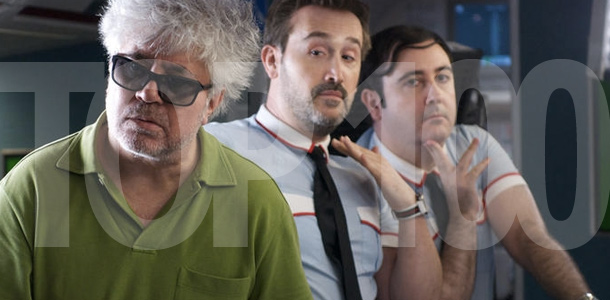 I'm So Excited
Director/Writer: Pedro Almodóvar
Producer(s): Agustín Almodóvar
U.S. Distributor: Sony Pictures Classics
Cast: Penélope Cruz, Antonio Banderas, Paz Vega, Blanca Suárez, Lola Dueñas, Hugo Silva, Javier Cámara, Cecilia Roth, José María Yazpik, Miguel Ángel Silvestre, Antonio de la Torre, Raúl Arévalo, Carmen Machi
Actors and actresses from Pedro Almodóvar's vault of previous films, muses mixed up with newbies and even a few cameos are the team that make up a comedy that is a throwback to the Pedro of before (think pre 1990′s Tie Me Up! Tie Me Down!). Teaser trailer (see below) announces this as high end comedy. Lovers of subtitles should brace themselves for impact – there'll be a lot of spewing.
Gist: This is an ensemble comedy about a group of people on the brink of an impending disaster.
Release Date: This is receiving a March 8th release in Spain and will find its way on the Croisette. Expect Sony Pictures Classics to not waste much time and have it hit theaters during the summer.

Eric Lavallée is the founder, editor-in-chief and film critic at IONCINEMA.com (founded in 2000). Eric splits his time between his home base in Montreal, NYC, and is a regular at Sundance, Cannes and TIFF. He has a BFA in Film Studies at the Mel Hoppenheim School of Cinema. In 2013 he served as a Narrative Competition Jury Member at the SXSW Film Festival. Top Films From Contemporary Film Auteurs: Almodóvar (Talk to Her), Coen Bros. (Fargo), Dardennes (La Promesse), Haneke (Caché), Hsiao-Hsien (Three Times), Kar-wai (In the Mood for Love), Kiarostami (Taste of Cherry), Lynch (Mulholland Dr.), Tarantino (Pulp Fiction), Van Sant (My Own Private Idaho), von Trier (Breaking the Waves)
You may also like...
Zachary Wigon (The Heart Machine)
"to know someone, you really have to be granted an unimpeded view into the intimate details of their life, and this is something that we think technology affords us" Read more

Review

Advertisement

Interviews

In Theaters

19 Dec

The Gambler

05 Dec

The Barefoot Artist

03 Dec

Zero Motivation

14 Nov

Foxcatcher

07 Nov

An Open Secret

31 Oct

A Girl Walks Home Alone at Night

31 Oct

Horns

24 Oct

Force Majeure

Laggies

Revenge of the Green Dragons

Masthead

Facebook
Coming Soon
12/24/14
12/31/14
01/16/15
02/27/15
03/06/15
04/03/15