Top 100 Most Anticipated Films of 2013: #71. Woody Allen's Blue Jasmine
By Eric Lavallee on January 11, 2013
@ioncinema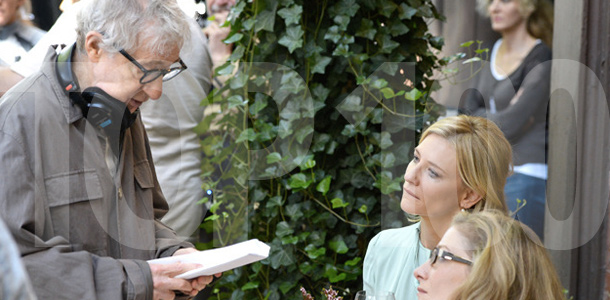 Blue Jasmine
Director/Writer: Woody Allen
Producer(s): Letty Aronson and Stephen Tenenbaum
U.S. Distributor: Rights Available
Cast: Alec Baldwin, Cate Blanchett, Bobby Cannavale, Louis C.K., Andrew Dice Clay, Sally Hawkins, Peter Sarsgaard and Michael Stuhlbarg
While he is a genius in his own right he also can do wrong (To Rome with Love), but as long as Woody keeps churning out a new title (his average is about one every 18 months) we'll be among the patronage. We're curious to see what kind of neurotic characters vet thesps Cate Blanchett and Alec Baldwin got to play – how Louis C.K. figures into the scheme of things, and curious to see if the landmark of the Golden Gate might be beautified to the degree that the Manhattan Bridge was when he included it in his 1979 classic.
Gist: Set in NYC and San Francisco – this is the story of the final stages of an acute crisis and a life of a fashionable New York housewife (Cate Blanchett).
Release Date: Sony Pictures Classics just picked this up – and you know that they're gunning for a Cannes Film Festival premiere.
Eric Lavallée is the founder, editor-in-chief and film critic at IONCINEMA.com (founded in 2000). Eric splits his time between his home base in Montreal, NYC, and is a regular at Sundance, Cannes and TIFF. He has a BFA in Film Studies at the Mel Hoppenheim School of Cinema. In 2013 he served as a Narrative Competition Jury Member at the SXSW Film Festival. Top Films From Contemporary Film Auteurs: Almodóvar (Talk to Her), Coen Bros. (Fargo), Dardennes (La Promesse), Haneke (Caché), Hsiao-Hsien (Three Times), Kar-wai (In the Mood for Love), Kiarostami (Taste of Cherry), Lynch (Mulholland Dr.), Tarantino (Pulp Fiction), Van Sant (My Own Private Idaho), von Trier (Breaking the Waves)
You may also like...
Trieste Kelly Dunn
"I focused on feeling wronged and that something was taken from her, and that taking it from someone else who deserved it felt heroic and right, despite it being wrong and irrational." Read more

Review

Interviews

In Theaters

23 Jul

18 Jul

11 Jul

09 Jul

04 Jul

02 Jul

27 Jun

13 Jun

06 Jun

Masthead

Facebook
Coming Soon
08/08/14
09/26/14
09/30/14