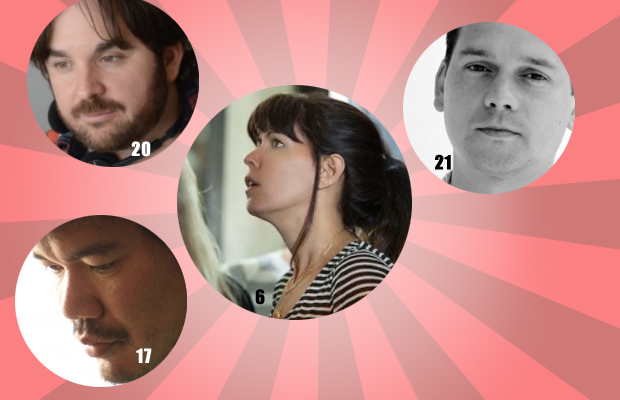 For our annual lineup of most anticipated studio films, our goal is to highlight auteurs (and other notable cinematic technicians) who have projects brewing in the US studio system. Across our list of twenty-five 2017 films to keep an eye on, we have a varied degree of usual suspects, several foreigners behind lucrative star vehicles, and still a notable lack of women directors (although two of them find their way into our top ten). Worth noting, Patty Jenkins at the helm makes us more excited than usual for Wonder Woman, which otherwise could easily become one more notch in an endless line of super hero films (also, it's her first feature since 2003's Monster).
The only directorial debut on our list is Aaron Sorkin, the lauded scribe ready with Molly's Game starring Jessica Chastain. We're also curious to see Goldie Hawn back on screen in over a decade alongside Amy Schumer in Jonathan Levine's Snatched. Some US indie auteurs making great strides are James Ponsoldt with The Circle, a sci-fi thriller headlined by Tom Hanks, while Jeremy Saulnier should be gearing for Defection, an adaptation of a 1973 novel by Robert Littell outfitted for a 'post-Snowden' age (although there's been no major news since it was announced back in April). Likewise, Alex Garland will follow-up Ex Machina with another sci-fi film, Annihilation, which features an equally impressive cast (including the returning Oscar Isaac, Tessa Thompson, Natalie Portman, and Jennifer Jason Leigh). Destin Cretton of Short Term 12 will also be on hand with The Glass Castle, featuring Jennifer Lawrence and Naomi Watts. And then James Franco should have a strong year, perhaps most notably with his Tommy Wisseau/The Room reenactment, now known as The Masterpiece.
A slew of Brits are making studio strides, and besides our obvious excitement for new projects from Edgar Wright, Christopher Nolan, and Danny Boyle (whose T2 Trainspotting sequel will premiere shortly out of competition in Berlin), we are enthused for Roger Michell's adaptation of the Daphne du Maurier novel My Cousin Rachel starring Rachel Weisz (which was last made into a film in 1952 directed by Henry Koster starring Olivia de Havilland). We're looking forward to Israel's Hany Abu-Assad's The Mountain Between Us starring Idris Elba and Kate Winslet, while Australian Nash Edgerton should make headlines with his untitled new project starring Charlize Theron and David Oyelowo. Before he returns to Sweden for a Jan Troell remake, Daniel Espinosa helms Life, starring Ryan Reynolds and Jake Gyllenhaal as part of a space crew discovering life on Mars. Then, we are hoping Guillermo Del Toro doesn't disappoint with his next English language film, The Shape of Water, a Cold War fantasy melodrama starring Michael Shannon and Octavia Spencer.
And lastly, of the heavy hitters on the US side, Alexander Payne is back with his first project since 2013 with Downsizing, while Richard Linklater continues his hot streak with Last Flag Flying. And then, we can't wait for the return of Steven Soderbergh, back with a NASCAR comedy, Logan Lucky. Here is our Most Anticipated Studio Films countdown.
#25. The Yellow Birds – Alexandre Moors
#24. Molly's Games – Aaron Sorkin
#23. Snatched – Jonathan Levine
#22. Baby Driver – Edgar Wright
#21. Defection – Jeremy Saulnier
#20. The Circle – James Ponsoldt
#19. The Mountain Between Us – Hany Abu-Assad
#18. The Disaster Artist – James Franco
#17. The Glass Castle – Destin Cretton
#16. Annihilation – Alex Garland
#15. My Cousin Rachel – Roger Michell
#14. Logan Lucky – Steven Soderbergh
#13. T2: Trainspotting – Danny Boyle
#12. Dunkirk – Christopher Nolan
#11. Last Flag Flying – Richard Linklater
#10. Downsizing – Alexander Payne
#9. Untitled Nash Edgerton Film
#8. The Shape of Water – Guillermo Del Toro
#7. Life – Daniel Espinosa
#6. Wonder Woman – Patty Jenkins
Nicholas Bell is a Los Angeles based film critic/journalist for IONCINEMA.com, covering film festivals such as Sundance, Cannes, TIFF, AFI, as well as weekly film reviews. Nicholas is also a regular contributor to men's fashion periodical, MM Magazine. Top Films From Contemporary Film Auteurs: Almodóvar (All About My Mother), Coen Bros. (No Country For Old Men), Dardenne Bros. (The Kid With a Bike), Haneke (The Piano Teacher), Hsiao-Hsien (Flight of the Red Balloon), Kar-wai (In The Mood For Love), Kiarostami (Close-Up), Lynch (Blue Velvet), Tarantino (Inglourious Basterds), Van Sant (My Own Private Idaho), von Trier (Dogville), Zulawski (Possession), Carax (Mauvais Sang)
Facebook