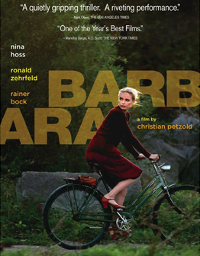 German director Christian Petzold's long running collaborative relationship with his starring actress Nina Hoss has been fruitful to say the least. A '12 Berlin Film Festival winner (Silver Bear for Best Director), Barbara, sees Hoss embody the title character, an uptight physician banished to a rural village in East Germany in 1980 as punishment for an unknown deed, with a subtle fragility that only peaks through her callous guise. We aren't given much to go on, but it seems she was once a prosperous and well respected doctor with a healthy love life of her own, her biggest problem being her beau's residency on the other side of the Berlin Wall. Both professionally and personally, Barbara doesn't know how to live life detached from a metropolis, and despite being under the incredulous eye of the law, she has no intention of loosing touch with her lover. So, legality be damned, Barbara's plan is to escape. Sounding quite thriller-esque indeed, the film actually leans carefully into melodramatic romance without ever falling head-over-heals for sentimentalism thanks to it's measured performances and meticulous direction.
Subjected to random inspections of her shabby assigned abode (notably by Rainer Bock, who's smug stickler of an officer is perfectly brazen) and the embarrassment of gloved cavity searches, it's not hard to feel empathy for Barbara. Risking her already limited independence, she rendezvous with her beau in the backwoods by bike and in faraway hotels by train. Not wanting to become attached to her situation, she puts up a cold front to her handsome-yet-grizzled professional overseer, Doctor André (Ronald Zehrfeld), but her chilly manner begins to melt away as she begins to work with the youthful patients. When a tragic teenage girl named Stella (Jasna Fritzi Bauer) gets more than she can handle, Barbara begins to open up, showing empathy and proficiency in her work and flighty allure between burgeoning co-workers. Subtle gestures of kindness on André's part – sending a man to tune her piano, fetching her coffee unannounced, offering her rides home – seem to go unappreciated, yet it seems there may be a sea-change coming.
Petzold's period piece, now over 30 years out from its rural setting, deals directly with the now fallen Berlin Wall and lacks all the techno-attention of iPhones and laptops, yet the film feels surprisingly modern. This is small town living. People ride bikes down dirt roads to work. People work the land that outlines their homes for grown crops to set their tables. Doctors are limited by the budgets they're given and the small population they serve. Barbara herself spends much time aloft her modest bicycle, riding through the lush greenery, almost always battling the seafaring Baltic winds that continuously pelt the shoreline town, a naturalistic reminder of the imposing forces and, paradoxically, the freedom that looms just across the drink.
Barbara's tale is not one of a headstrong figure of feminism that it at first may seem. Rather, it is more a story of adaptation and acceptance, for one's inhabitance and social situation, and also of empathy, for those who have it worse than one's self. Plucked from her fulfilling career in the city, Barbara is desperately out of her element and sorely needs someone she can trust and confide in. With her patients, her role is reversed. She becomes a warmly compassionate individual willing to sacrifice her own well being for the health of others. Even the intruding inspector is given his moment of empathy when we learn that André is privately treating his terminally sick wife. In its elegantly somber romanticism, Barbara ruminates on the notion of empathy and freedom through the prism of a woman torn by the loves of her life – love, profession, both?
Disc Review:
Barbara, the first Blu-ray by Adopt Films I've had the opportunity to view is a poor first impression. Though the film, gorgeously shot by cinematographer Hans Fromm, is thankfully presented in HD, recreating all the fine detail in Nina Hoss's slender face and curly blond hair, as well as the wealth of greenery that often surrounds her. Given the original German language Dolby stereo track, the film suffers from what sounds like a quick mix. Frequently the high end hiss of field recordings crop up, having not been find tuned and removed from distraction – especially during conversation and quiet outdoor scenes I which we mainly hear the wind and footsteps. Even the included subtitles have a few awkwardly translated phrases that were missed. Like with their recent Tabu DVD release, Adopt chose to go bare-bones, including no extras what-so-ever. Pop it in and you're taken to a static menu with no options other than to play the film. Not even a chapter selection is available.
Final Thoughts:
Christian Petzold's latest film is a marvel of modern romantic cinema, precisely written and directed with a keen sense of time and place. Maintaining a perfect balance of drive, self-preservation and empathy, Barbara has the potential of becoming a crossover import for those casual cinephiles looking for something a little more serious in their amorous cinema. Though the Blu-ray will provide some visual delight, it sorely lacks any insight or reflection on the film itself. Buy if you must, rental recommended.