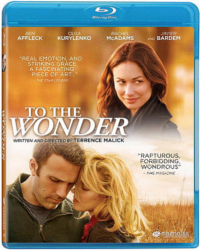 In the wake of The Tree of Life, cinephiles expected the impossible of Terrence Malick's follow-up feature, and when it failed to meet their demands, critics decided to rain hellfire on To The Wonder, trashing it for what many deemed as heavy handed poeticism and an indulgence in Malick's signature traits. Now, there were plenty of valid reasons for this argument, but looking back at the film a year after its debut at Venice, it seems as if we may have misjudged a bit. Originally, I was on the fence, neither hating nor adoring it, but free of expectations, Malick's modern romance feels fresh, alive and much more cohesive than memory recalls.
Strangely, it's memory itself that the film seems to be most about this time around. Though obviously a story of transcontinental love between a suburban dwelling American named Neil (Ben Affleck) and a Parisian single mother named Marina (Olga Kurylenko), the slow fading of their initial romance due to a lack of commitment, the inevitable disintegration of their relationship in favor of a fledgling fling with a local named Jane (Rachel McAdams), and a preacher's eternal struggle with faith (Javier Bardem), it is only in the film's construction that we grasp what seems to have been Malick's overall intention. As with The Tree of Life, To The Wonder relies heavily on the visual mastery of its director, his ingenious cinematographer Emmanuel Lubezki, and a team of chop-happy editors that break the narrative flow into impressionistic moments rather than a straightforwardly recounted path. Scenes play out in intimate fragmentation, cuts disallowing anything to play out in real time while natural sound and aching orchestral music washes in and out of the mix, conversations splintering into only the most meaningful of words. By continuously employing this technique, the film feels like a series of memories we look back on and only half remember. Certainly, this is non-traditional, unconventional feature filmmaking, but this is Malick's forte.
The major difference here is that in The Tree of Life, the focus was on children as they experience the world for the first time – playing with siblings, rebelling against one's parents, feeling the rush and the danger of committing a crime, and generally being in awe of the natural world – and it worked brilliantly because most of us actually have nostalgic memories like these from growing up ourselves, but with To The Wonder the story revolves around adults. Though the subject is different, Malick's technique is not. Situations are constructed just the same. When Neil and Jane first become involved, rather than only showing them interact as any normal couple would, by going out on a date or anything of the like, Malick chooses to depict them in situations that conjure the feeling of being in love and the physicality that accompanies it, rather than the actuality of these moments. So, instead, we see them frolicking about in grassy fields amongst a herd of Buffalo during golden hour or tumbling in bed, bathed in natural light, wrapped with sheets and limpid curtains amongst a hail of strings and whispered yearnings. For many on first watch, this was pure gouda, but now it seems more a valiant attempt at harnessing the chaos of memory within the fitting medium of cinema.
Whether or not Malick's flamboyant use of the medium is too much is up for debate, but for this critic, he straddles a fine line of narrative flippancy and free spirited experimentation, that while not treading new ground, surely takes up the expressionist banner with American pride. In doing, To The Wonder manages to weave faith with love – for Malick, they are one and the same – and though Bardem's preacher finds himself questioning his faith in god, Neil's waning faith is in his romantic relationships. Bearing witness, we are asked for little faith ourselves, in cinema and in memory.
Disc Review:
Magnolia managed to snag a little gem in Malick's black sheep, and we can't blmae them for not getting a director's commentary track on this one, but they've given it a half-assed home treatment, tacking on a set of repetitive EPK pieces rather than something of substance. Where they did go right is in the A/V presentation. Lubezki's stunning cinematography looks flawless throughout, free of any digital artifacts or muddiness. Relying on natural light and making generous use of extreme close-ups, skin detail and tones contain fine detail and are warm and radiant. Before the film begins, there is an info card from the producers that suggests that we watch the film with the volume cranked, which I agree with. This is a film that revels in the intricacy of subjective sound. While much time is given to the lush wash of Hanan Townshend's orchestration, minute sound effects may be trickling though the peripheral speakers thanks to a vivid 5.1 DTS-HD master track. As with most Magnolia releases, this one comes in a standard Blu-ray case and it also happens to have one of the worse pieces of cover art I've ever seen. They're trying to make a Malick film look like a second rate Lifetime romance.
The Making of To The Wonder
While it is here that we begin to see some insight into Malick's filmmaking process, it is also the start of a series of the worst kind of home video special features. In classic EPK style, the actors and key production members give interviews while being cut against behind the scenes footage. There are fascinating tidbits on how Malick crafts his films and interacts with actors, but the director himself never is seen. 10 min
The Actors' Experience
The first of three smaller featurettes that recycle material from the lengthier piece, this one basically weeds out everything that doesn't feature the actors and runs the left overs as one. 5 min
The Ballet
Again, another piece about the actors interacting on set. Almost identical footage used from previous pieces. 6 min
Local Flavor
Another one? This one's about mixing in local non-actors with the movie stars to lend a sense of place and realism. These couldn't have been edited into one larger, more in depth piece that doesn't just recycle material to look as though the disc is packed with extras? Less would certainly be more in this case. 5 min
Theatrical Trailer
Possibly the best extra on the disc, this trailer is what all trailers should be – a collage of images, characters, and most importantly, tone. With just a taste of the sensory indulgence to be had, this trailer is perfect. 2 min
Final Thoughts:
If you've seen To The Wonder just once before, I highly recommend giving it a second chance. This a film that lives in the fine details and that means its got loads of rewatchability. Though it's by no means one of Malick's best, it certainly stands head and shoulders above most of the shlock in the multiplexes. This disc doesn't pack much beyond the film itself, but that's enough for at lease a rental in my book.