Exclusive Clip: Ray Winstone is Looking Up Your Skirt in Nick Love's The Sweeney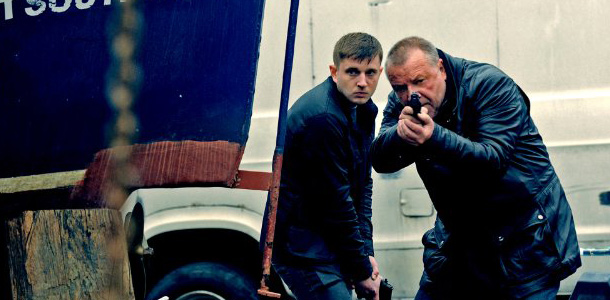 We've come to associate the raspy Ray Winstone to antagonist/villain-like roles of corruption, the underground and outlaws (favorites include Sexy Beast, The Proposition), but here, the actor from East End of London takes on an updated Jack Regan (detective character is based on a Brit show from the 70′s that I've never heard of). eOne Films has provided us with an exclusive clip for The Sweeney, featuring Winstone, Steven Mackintosh and Hayley Atwell in work place comradery. This will be out in theaters and on VOD in the US tomorrow.
Here's the synopsis: Tearing up the streets of London, THE SWEENEY is a stylish, exhilarating action thriller proving sometimes you have to act like a criminal to catch a criminal. Armed and dangerous, the Sweeney Flying Squad are old school crime fighters enforcing the law. Led by legendary detective Jack Regan (Ray Winstone) and his loyal partner, they have their own unique way of operating and always get results. With a bank heist in progress and his old enemy making a reappearance on the London crime scene, Regan will do whatever it takes to get the job done, even defying orders from his no-nonsense boss (Damian Lewis).