Home
/
Indie Film News
/
Exclusive Clip: Ray Winstone is Looking Up Your Skirt in Nick Love's The Sweeney
Exclusive Clip: Ray Winstone is Looking Up Your Skirt in Nick Love's The Sweeney
By Eric Lavallee on February 28, 2013
@ioncinema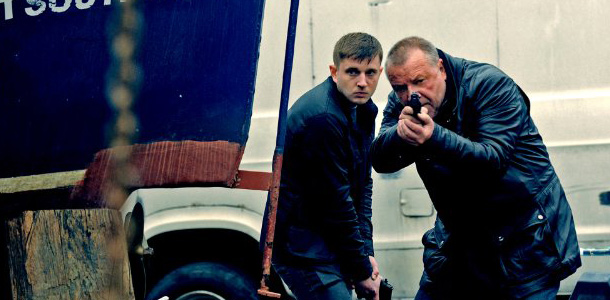 We've come to associate the raspy Ray Winstone to antagonist/villain-like roles of corruption, the underground and outlaws (favorites include Sexy Beast, The Proposition), but here, the actor from East End of London takes on an updated Jack Regan (detective character is based on a Brit show from the 70′s that I've never heard of). eOne Films has provided us with an exclusive clip for The Sweeney, featuring Winstone, Steven Mackintosh and Hayley Atwell in work place comradery. This will be out in theaters and on VOD in the US tomorrow.
Here's the synopsis: Tearing up the streets of London, THE SWEENEY is a stylish, exhilarating action thriller proving sometimes you have to act like a criminal to catch a criminal. Armed and dangerous, the Sweeney Flying Squad are old school crime fighters enforcing the law. Led by legendary detective Jack Regan (Ray Winstone) and his loyal partner, they have their own unique way of operating and always get results. With a bank heist in progress and his old enemy making a reappearance on the London crime scene, Regan will do whatever it takes to get the job done, even defying orders from his no-nonsense boss (Damian Lewis).
Eric Lavallée is the founder, editor-in-chief and film critic at IONCINEMA.com (founded in 2000). Eric splits his time between his home base in Montreal, NYC, and is a regular at Sundance, Cannes and TIFF. He has a BFA in Film Studies at the Mel Hoppenheim School of Cinema. In 2013 he served as a Narrative Competition Jury Member at the SXSW Film Festival. Top Films From Contemporary Film Auteurs: Almodóvar (Talk to Her), Coen Bros. (Fargo), Dardennes (La Promesse), Haneke (Caché), Hsiao-Hsien (Three Times), Kar-wai (In the Mood for Love), Kiarostami (Taste of Cherry), Lynch (Mulholland Dr.), Tarantino (Pulp Fiction), Van Sant (My Own Private Idaho), von Trier (Breaking the Waves)
You may also like...
Trieste Kelly Dunn
"I focused on feeling wronged and that something was taken from her, and that taking it from someone else who deserved it felt heroic and right, despite it being wrong and irrational." Read more

Review

Interviews

In Theaters

18 Apr

11 Apr

04 Apr

02 Apr

28 Mar

21 Mar

14 Mar

07 Mar

28 Feb

21 Feb

Masthead

Facebook