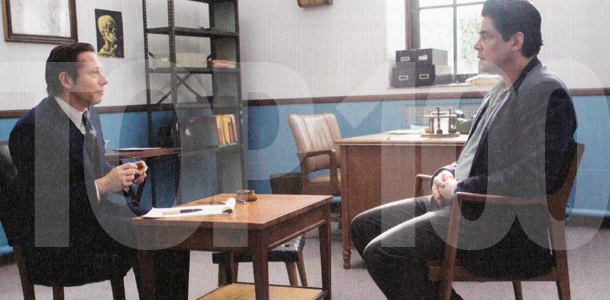 #1. Arnaud Desplechin's Jimmy P.
Gist: Desplechin's first film in 5 years, his first English language, U.S. production pits muse Mathieu Amalric vs. Benicio Del Toro as the titular Picard. Adapted from Psychotherapy Of A Plains Indian, by acclaimed ethnologist and psychologist Georges Devereux. It is the true story of a friendship between a Native American and a French psychoanalyst.
Prediction: With the exception of 2004′s Kings and Queen, Desplechin has been a staple of the film fest dating back to Critics' Week showing of his debut film La Vie Des Morts (1991), and then almost all Main Comp showings of La Sentinelle (1992), My Sex Life… or How I Got Into an Argument (1996), Esther Kahn (2000), Playing 'In the Company of Men' (2003) and his last picture, 2008′s A Christmas Tale. If Del Toro and/or Amalric come home empty-handed with Best Actor prizes, then this means a top three finish. Now the big pre-fest guess is how long is the run time?

Eric Lavallée is the founder, editor-in-chief and film critic at IONCINEMA.com (founded in 2000). Eric splits his time between his home base in Montreal, NYC, and is a regular at Sundance, Cannes and TIFF. He has a BFA in Film Studies at the Mel Hoppenheim School of Cinema. In 2013 he served as a Narrative Competition Jury Member at the SXSW Film Festival. Top Films From Contemporary Film Auteurs: Almodóvar (Talk to Her), Coen Bros. (Fargo), Dardennes (La Promesse), Haneke (Caché), Hsiao-Hsien (Three Times), Kar-wai (In the Mood for Love), Kiarostami (Taste of Cherry), Lynch (Mulholland Dr.), Tarantino (Pulp Fiction), Van Sant (My Own Private Idaho), von Trier (Breaking the Waves)
You may also like...
Zachary Wigon (The Heart Machine)
"to know someone, you really have to be granted an unimpeded view into the intimate details of their life, and this is something that we think technology affords us" Read more

Review

Advertisement

Interviews

In Theaters

19 Dec

The Gambler

05 Dec

The Barefoot Artist

03 Dec

Zero Motivation

14 Nov

Foxcatcher

07 Nov

An Open Secret

31 Oct

A Girl Walks Home Alone at Night

31 Oct

Horns

24 Oct

Force Majeure

Laggies

Revenge of the Green Dragons

Masthead

Facebook
Coming Soon
12/24/14
12/31/14
01/16/15
02/27/15
03/06/15
04/03/15