2013 Cannes Film Festival Predictions: Claude Lanzmann's The Last of the Unjust
By Eric Lavallee on April 3, 2013
@ioncinema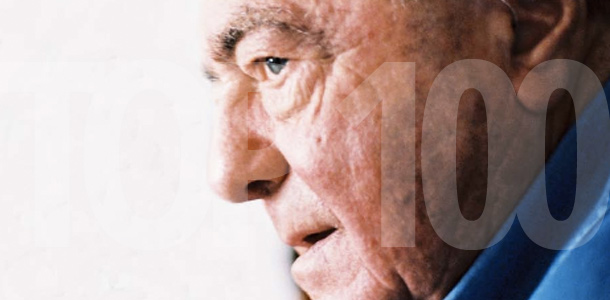 #65. Claude Lanzmann's The Last of the Unjust
Gist: This reveals a little-known yet fundamental aspect of the Holocaust, and sheds light on the origins of the "Final Solution" like never before. In the course of his work on "Shoah", Claude Lanzmann has done a long and impressive conversation with Viennese Rabbi Benjamin Murmelstein (1905-89). In the centre was his ambivalent role as a senior official of the Jewish Community of Vienna controlled by Eichmann during the Nazi era and as "Jewish elder" in the concentration camp Theresienstadt. Embedded in our present time, this film's goal is to make this extraordinary document available in an exciting way.
Prediction: Special Screenings. Lanzmann has made three separate trips to Cannes in 1970 (In Competition – Screenplay) for Élise ou la Vraie Vie, an Out of Comp slot for Sobibór, 14 octobre 1943, 16 heures and more recently as Cannes Classics showing for his Israel Why (207 minutess), but the film world will forever know him for Shoah (which the Criterion folks will release in June), so logically we see this continuation.

Eric Lavallée is the founder, editor-in-chief and film critic at IONCINEMA.com (founded in 2000). Eric splits his time between his home base in Montreal, NYC, and is a regular at Sundance, Cannes and TIFF. He has a BFA in Film Studies at the Mel Hoppenheim School of Cinema. In 2013 he served as a Narrative Competition Jury Member at the SXSW Film Festival. Top Films From Contemporary Film Auteurs: Almodóvar (Talk to Her), Coen Bros. (Fargo), Dardennes (La Promesse), Haneke (Caché), Hsiao-Hsien (Three Times), Kar-wai (In the Mood for Love), Kiarostami (Taste of Cherry), Lynch (Mulholland Dr.), Tarantino (Pulp Fiction), Van Sant (My Own Private Idaho), von Trier (Breaking the Waves)
You may also like...
Andrew Droz Palermo (Rich Hill)
"This extended into the treatment of the kids, as much as humanly possible – I was on the ground shooting up and wide at them – trying to make them look larger than life, like heroes." Read more

Review

Interviews

In Theaters

08 Aug

23 Jul

18 Jul

11 Jul

09 Jul

04 Jul

Masthead

Facebook
Coming Soon
09/30/14
10/24/14
11/14/14