2013 Sundance Film Festival Predictions: Diego Luna's Chavez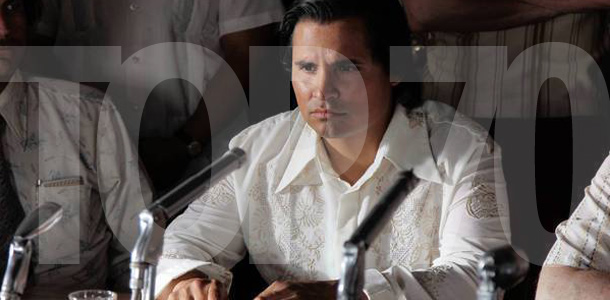 With a docu J.C. Chavez (2007), a short Revolución (2010) and his feature film under his belt – Abel (Sundance '10), full fledged actor-filmmaker-producer Diego Luna's sophomore, $10 million production began filming in April and is will most likely be in distributor Participant Media's wishes to release the film at a socially conscious festival. Park City happens to be the lieu where Luna premiered Abel and countless other items as an actor, so we're thinking an early fest 2013 premiere is in the cards for Chavez. The mostly English project features Rosario Dawson, Gabriel Mann, America Ferrera and Michael Peña in the lead role (see pic above).
Gist: Written by Keir Pearson, the inspirational story of Cesar Chavez, the celebrated Mexican American activist who, at great personal cost, put the shameful treatment of his fellow field workers on the map. He took their cause to the powerful Californian land-owners, the state government and beyond. A complicated man with a mission, Chavez never gave up. His extraordinary journey changed the history of unionism, labour conditions and the civil rights movement forever.
Production Co./Producers: Mr.Mudd's Russell Smith, Lianne Halfon and John Malkovich, Pablo Cruz, Larry Meli and actor Gael García Bernal
Prediction: Premieres section
U.S. Distributor: Rights Available