2013 Sundance Film Festival Predictions: Harmony Korine's Spring Breakers
By Eric Lavallee on November 21, 2012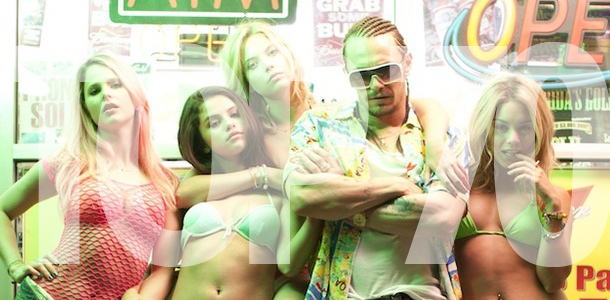 With a smartly devised spring release date set, Harmony Korine's Spring Breakers has already broken out in 2012 with showings at Venice and Toronto, but it hasn't yet shown on his home turf. Prod Co. Annapurna Pictures made the pic their first acquisition for distribution (they just partnered with A24 Films) and will be looking to make a splash to generate buzz so while chances are low for a Sundance showing, we think this could be included in the Spotlight section.
Gist: Brit (Ashley Benson), Candy (Vanessa Hudgens), Cotty (Rachel Korine) and Faith (Selena Gomez) have been best friends since grade school. They live together in a boring college dorm and are hungry for adventure. All they have to do is save enough money for spring break to get their shot at having some real fun. A serendipitous encounter with rapper "Alien" (James Franco) promises to provide the girls with all the thrill and excitement they could hope for. With the encouragement of their new friend, it soon becomes unclear how far the girls are willing to go to experience a spring break they will never forget.
Production Co./Producers: Charles-Marie Anthonioz, Jordan Gertner, Chris Hanley, David Zander
Prediction: Spotlight section
U.S. Distributor: A24 Films
Eric Lavallée is the founder, editor-in-chief and film critic at IONCINEMA.com (founded in 2000). Eric splits his time between his home base in Montreal, NYC, and is a regular at Sundance, Cannes and TIFF. He has a BFA in Film Studies at the Mel Hoppenheim School of Cinema. In 2013 he served as a Narrative Competition Jury Member at the SXSW Film Festival. Top Films From Contemporary Film Auteurs: Almodóvar (Talk to Her), Coen Bros. (Fargo), Dardennes (La Promesse), Haneke (Caché), Hsiao-Hsien (Three Times), Kar-wai (In the Mood for Love), Kiarostami (Taste of Cherry), Lynch (Mulholland Dr.), Tarantino (Pulp Fiction), Van Sant (My Own Private Idaho), von Trier (Breaking the Waves)
You may also like...
Hannah Fidell
"I absolutely had her in mind for this film when I was writing it and she was attached to the project basically from day one." Read more

Review

Interviews

In Theaters

11 Dec

06 Dec

29 Nov

27 Nov

22 Nov

15 Nov

08 Nov

01 Nov

18 Oct

16 Oct

Masthead

Facebook
Coming Soon
Copyright © 2013 IONCINEMA.com