2013 Sundance Film Festival Predictions: Naomi Foner's Very Good Girls
By Eric Lavallee on November 22, 2012
@ioncinema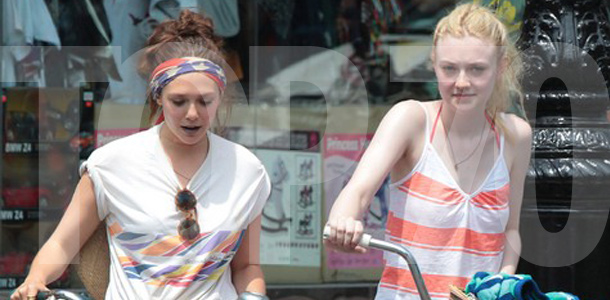 Jake and Maggie Gyllenhaal's mom Naomi Foner might be a rookie behind the camera, but she has been in the biz for quite some time now. Production began in May, filming in June and post-prod in August for Very Good Girls – a Groundswell Productions produced coming-of-age drama featuring the talents of Cinematographer Bobby Bukowski and Sundance alumni in actors/actresses Dakota Fanning, Elizabeth Olsen, Demi Moore, Ellen Barkin, Peter Sarsgaard, Richard Dreyfuss, Clark Gregg and newbie actor Boyd Holbrook.
Gist: Two New York City girls pact to lose their virginity during their first summer out of high school. When they both fall for the same street artist, the friends find their connection tested for the first time.
Production Co./Producers: Herrick Productions' Norton Herrick, Groundswell Productions's Michael London (Win Win) and Next Wednesday Productions' Mary Jane Skalski (Hello I Must Be Going)
Prediction: Premieres section
U.S. Distributor: Rights Available
Eric Lavallée is the founder, editor-in-chief and film critic at IONCINEMA.com (founded in 2000). Eric splits his time between his home base in Montreal, NYC, and is a regular at Sundance, Cannes and TIFF. He has a BFA in Film Studies at the Mel Hoppenheim School of Cinema. In 2013 he served as a Narrative Competition Jury Member at the SXSW Film Festival. Top Films From Contemporary Film Auteurs: Almodóvar (Talk to Her), Coen Bros. (Fargo), Dardennes (La Promesse), Haneke (Caché), Hsiao-Hsien (Three Times), Kar-wai (In the Mood for Love), Kiarostami (Taste of Cherry), Lynch (Mulholland Dr.), Tarantino (Pulp Fiction), Van Sant (My Own Private Idaho), von Trier (Breaking the Waves)
You may also like...
Lance Edmands (Bluebird)
"We discussed how much of the look would be inspired by this era, the last time people really had the money to renovate things. The house that the main family lives in was totally empty and falling apart when we picked it." Read more

Review

Advertisement

Interviews

In Theaters

27 Mar

13 Mar

06 Mar

04 Mar

27 Feb

Masthead

Facebook
Coming Soon
04/17/15
05/01/15
06/05/15