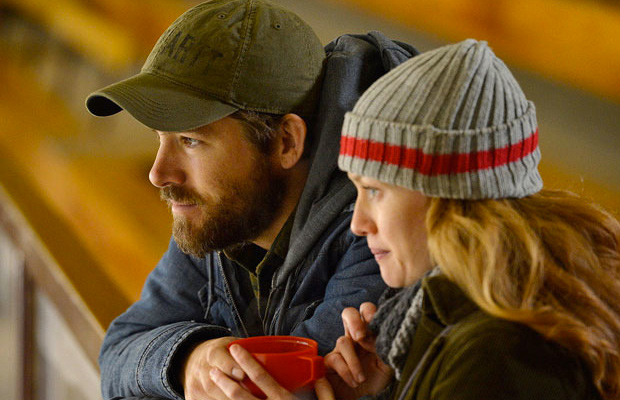 Perhaps not as sturdy or as developed as it is with Cannes or TIFF, Atom Egoyan's relationship with Sundance remains a good one when you double his output of films directed (Next of Kin and Exotica) with films that he exec-produced in The Saddest Music in the World and Away From Her. Formerly going by the title of "Queen of the Night," The Captive features Ryan Reynolds, Egoyan lucky charm Scott Speedman, Rosario Dawson, Mireille Enos, Kevin Durand, Alexia Fast and the almost always dependable Bruce Greenwood in what should be some welcome genre diversion at the fest and one that will make us forget about the poorly executed Devil's Knot.
Gist: Written by Egoyan & David Fraser, a pick up truck pulls off the highway at a diner. Confident that his young daughter is safe in the back seat and promising to return with ice cream, the father slips out of his truck and into the diner. When he returns, she is gone. This examines how this kidnapping destroys the relationships among those involved. As the film teases out the complex threads weaving together the victim, her family, the predators and the investigators, the mystery of what happened to the child, during the eight years she was missing, is revealed.
Production Co./Producers: Egoyan, Simone Urdl, Jennifer Weiss, Stephen Traynor.
Prediction: Premieres category is possible. Cannes an outside chance.
U.S. Distributor: Rights Available

More 2014 Sundance Film Festival Predictions
Eric Lavallée is the founder, editor-in-chief and film critic at IONCINEMA.com (founded in 2000). Eric splits his time between his home base in Montreal, NYC, and is a regular at Sundance, Cannes and TIFF. He has a BFA in Film Studies at the Mel Hoppenheim School of Cinema. In 2013 he served as a Narrative Competition Jury Member at the SXSW Film Festival. Top Films From Contemporary Film Auteurs: Almodóvar (Talk to Her), Coen Bros. (Fargo), Dardennes (La Promesse), Haneke (Caché), Hsiao-Hsien (Three Times), Kar-wai (In the Mood for Love), Kiarostami (Taste of Cherry), Lynch (Mulholland Dr.), Tarantino (Pulp Fiction), Van Sant (My Own Private Idaho), von Trier (Breaking the Waves)
You may also like...
Trieste Kelly Dunn
"I focused on feeling wronged and that something was taken from her, and that taking it from someone else who deserved it felt heroic and right, despite it being wrong and irrational." Read more

Review

Interviews

In Theaters

18 Apr

11 Apr

04 Apr

02 Apr

28 Mar

21 Mar

14 Mar

07 Mar

28 Feb

Masthead

Facebook