2014 Sundance Film Festival Predictions: Craig Johnson's The Skeleton Twins
By Eric Lavallee on November 21, 2013
@ioncinema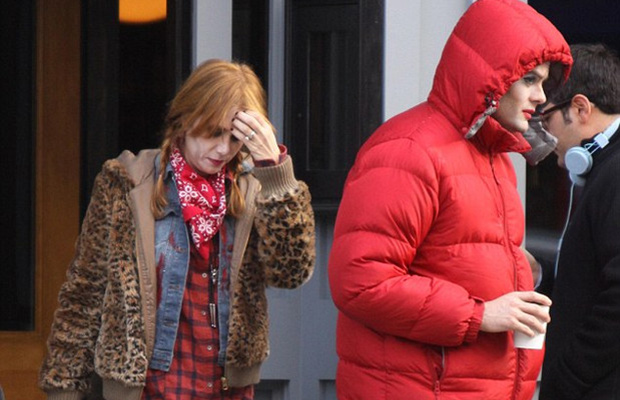 Live. From New York. It's…Craig Johnson. Another product from the Duplass factory, after breaking out with the micro-budgeted SXSW preemed True Adolescents, Johnson remains in similar dramedy curriculum (read the descriptive journey here) with the help of lead off hitters in SNL's Kristen Wiig and Bill Hader (they were a delicious combo in Adventureland) alongside thesps Ty Burrell, Luke Wilson and Boyd Holbrook. Round two behind the director's chair began in November of 2012 with cinematographer Reed Morano (Kill Your Darlings) and Prod. Designer Ola Maslik (May in the Summer) in the Sundance alumni tech crew deck.
Gist: Written by Mark Heyman and Johnson, Wiig and Hader play estranged twins Maggie and Milo, who coincidentally cheat death on the same day, prompting them to reunite and confront how their lives went so wrong. For Maggie, that means re-examining her marriage to sweet "nature frat boy" Lance (Wilson), while her gay brother Milo revisits his old flame Rich, a former teacher with a past he'd rather keep quiet. As the twins' reunion reinvigorates them both, they realize the key to fixing their lives may lie in fixing their relationship with each other.
Production Co./Producers: Duplass Brothers Prods.' Stephanie Langhoff (Safety Not Guaranteed), Jennifer Lee (Bass Ackwards), Jacob Pechenik (The Inevitable Defeat of Mister & Pete)
Prediction: With a slight advantage going to the U.S. Dramatic Competition over the Premieres category, if Park City passes up this could end up at SXSW or TIFF in the autumn.
U.S. Distributor: Rights Available
More 2014 Sundance Film Festival Predictions
Eric Lavallée is the founder, editor-in-chief and film critic at IONCINEMA.com (founded in 2000). Eric splits his time between his home base in Montreal, NYC, and is a regular at Sundance, Cannes and TIFF. He has a BFA in Film Studies at the Mel Hoppenheim School of Cinema. In 2013 he served as a Narrative Competition Jury Member at the SXSW Film Festival. Top Films From Contemporary Film Auteurs: Almodóvar (Talk to Her), Coen Bros. (Fargo), Dardennes (La Promesse), Haneke (Caché), Hsiao-Hsien (Three Times), Kar-wai (In the Mood for Love), Kiarostami (Taste of Cherry), Lynch (Mulholland Dr.), Tarantino (Pulp Fiction), Van Sant (My Own Private Idaho), von Trier (Breaking the Waves)
You may also like...
Trieste Kelly Dunn
"I focused on feeling wronged and that something was taken from her, and that taking it from someone else who deserved it felt heroic and right, despite it being wrong and irrational." Read more

Review

Interviews

In Theaters

18 Apr

11 Apr

04 Apr

02 Apr

28 Mar

21 Mar

14 Mar

07 Mar

28 Feb

Masthead

Facebook