2012 Gotham Awards: 'Moonrise Kingdom' Wins Best Feature, 'Beast' Takes Home Pair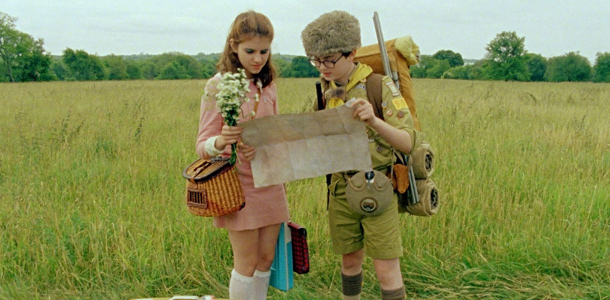 In the battle of the Andersons, it was Wes who beat P.T for Best Feature at the 2012 Gotham Awards. Moonrise Kingdom would go 1 for 2 as Lynn Shelton's Your Sister's Sister easily among the year's the best, for its natural, on-screen chemistry was handsomely awarded the Best Ensemble Performance prize. Making it an almost all Sundance Film Festival takes Gotham kind of year, in the Best Film Not Playing at a Theater Near You it's Terence Nance's An Oversimplification of Her Beauty which gets an extra boost for theatrical play. Pic was produced by Andrew Corkin who is lining up Jim Mickle's We Are What We Are for festival play next year.
The heavy favorite in all categories combined was Beasts of the Southern Wild's Benh Zeitlin as Best Breakthrough Director and Audience award, while in the Breakthrough Actor category, it's Emayatzy Corinealdi who won for her stellar performance in Middle of Nowhere – she now becomes a front-runner for the eventual Best Actress nom/win at the Indie Spirits and with more buzz and further critical support, an Oscar nom in not an improbable bet. Nicholas interviewed Corinealdi, her cast members and Ava DuVernay in Park City earlier in the year. In the Best Doc category, David France's How to Survive a Plague goes home happy while in the non-completed category – the Calvin Klein Spotlight on Women Filmmakers 'Live the Dream' grant – Stacie Passon will receive fat check for Concussion. Here are the noms and winners below.
Best Feature
Bernie – Richard Linklater
The Loneliest Planet – Julia Loktev
The Master – Paul Thomas Anderson
Middle of Nowhere – Ava DuVernay
Moonrise Kingdom – Wes Anderson
Best Documentary
Detropia – Heidi Ewing and Rachel Grady, directors; Heidi Ewing, Rachel Grady, Craig Atkinson, producers (Loki Films)
How to Survive a Plague – David France, director; Howard Gertler, David France, producers (Sundance Selects)
Marina Abramović: The Artist is Present – Matthew Akers, director; Jeff Dupre, Maro Chermayeff, producers (HBO Documentary Films and Music Box Films)
Room 237 – Rodney Ascher, director; Tim Kirk, producer (IFC Midnight)
The Waiting Room – Peter Nicks, director; Peter Nicks, Linda Davis, William B. Hirsch, producers (International Film Circuit)
Best Ensemble Performance
Bernie
Moonrise Kingdom
Safety Not Guaranteed
Silver Linings Playbook
Your Sister's Sister
Breakthrough Director
Zal Batmanglij for Sound of My Voice (Fox Searchlight Pictures)
Brian M. Cassidy and Melanie Shatzky for Francine (Factory 25 and The Film Sales Company)
Jason Cortlund and Julia Halperin for Now, Forager (Argot Pictures)
Antonio Méndez Esparza for Aquí y Allá (Here and There) (Torch Films)
Benh Zeitlin for Beasts of the Southern Wild (Fox Searchlight Pictures)
Breakthrough Actor
Mike Birbiglia in Sleepwalk with Me (IFC Films)
Emayatzy Corinealdi in Middle of Nowhere (AFFRM and Participant Media)
Thure Lindhardt in Keep the Lights On (Music Box Films)
Melanie Lynskey in Hello, I Must Be Going (Oscilloscope Laboratories)
Quvenzhané Wallis in Beasts of the Southern Wild (Fox Searchlight Pictures)
Best Film Not Playing at a Theater Near You
Kid-Thing – David Zellner, director; Nathan Zellner, Producer
An Oversimplification of Her Beauty – Terence Nance, director; Terence Nance, Andrew Corkin, James Bartlett, producers
Red Flag – Alex Karpovsky, director; Alex Karpovsky, Michael Bowes, producers
Sun Don't Shine – Amy Seimetz, director; Kim Sherman, Amy Seimetz, producers
Tiger Tail in Blue – Frank V. Ross, director; Adam Donaghey, Drew Durepos, producers
Calvin Klein Spotlight on Women Filmmakers 'Live the Dream' grant
Leah Meyerhoff, director, I BELIEVE IN UNICORNS
Stacie Passon, director, CONCUSSION
Visra Vichit Vadakan, KARAOKE GIRL