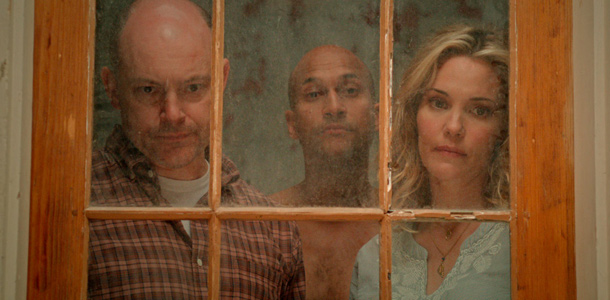 Here are some of the twitter feeds for those participating in the Sundance Film Festival's 2013 Prk City at Midnight section including (image featured above) Hell Baby. If you know of any other twitter feeds (producers, editors, Dps, scribes) we can add for each individual film – please let us know.
PARK CITY AT MIDNIGHT
Ass Backwards
Screenwriter and Actress Casey Wilson – @caseyrosewilson
Actors Alicia Silverstone – @AliciaSilv, Jon Cryer – @MrJonCryer
Hell Baby – @HellBabyMovie
Co-Director and co-screenwriter Thomas Lennon – @thomaslennon
Composer Michael Farrell – @catminority
Actors Rob Corddry – @robcorddry, Leslie Bibb – @mslesliebibb, Keegan Michael Key – @KeeganMKey, Riki Lindhome – @rikilindhome, Paul Scheer – @paulscheer, Rob Huebel – @robhuebel, Michael Ian Black – @michaelianblack, Alex Berg – @ActuallyBerg, Kumail Nanjiani – @kumailn
In Fear
Actors Iain De Caestecker – @IdeCaestecker, Allen Leech – @Allenleech
kink – @kinkdoc
Magic Magic – @
The Rambler
Director and screenwriter Calvin Lee Reeder – @CalvinLeeReeder
S-VHS
Directors Simon Barrett – @Simon_Barrett, Adam Wingard – @AdamWingard, Gregg Hale – @GeeHell, Timo Tjahjanto – @tiMObros, Gareth Huw Evans – @ghuwevans, Jason Eisener – @jasoneisener
Virtually Heroes
Director GJ Echternkamp – @GJEchternkamp
Actors Mark Hamill – @HamillHimself

Based out of the film deprived rust belt of Buffalo, NY, Jordan M. Smith is a film critic/journalist for IONCINEMA.com and has been making the rounds at Sundance, TIFF, and Hot Docs. When he's not gazing at the glow of a big screen, he's teaching as a tech librarian. Top Films From Contemporary Film Auteurs: P.T. Anderson (There Will Be Blood), W. Anderson (The Life Aquatic), Assayas (Carlos), Almodóvar (Broken Embraces), Coen Bros. (No Country For Old Men), Gibney (We Steal Secrets), Herzog (Grizzly Man), Kar-wai (Chungking Express), Kiarostami (Certified Copy), Malick (The Tree of Life), Morris (The Wog of War), Ross Bros. (Tchoupitoulas)
You may also like...
Trieste Kelly Dunn
"I focused on feeling wronged and that something was taken from her, and that taking it from someone else who deserved it felt heroic and right, despite it being wrong and irrational." Read more

Review

Interviews

In Theaters

18 Apr

11 Apr

04 Apr

02 Apr

28 Mar

21 Mar

14 Mar

07 Mar

28 Feb

Masthead

Facebook