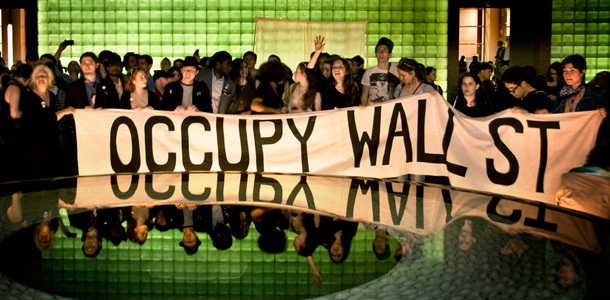 Here are some of the twitter feeds for those participating in the Sundance Film Festival's 2013 U.S. Documentary Competition including (image featured above) 99% – The Occupy Wall Street Collaborative Film. If you know of any other twitter feeds we can add for each individual film – please let us know.
99% – The Occupy Wall Street Collaborative Film – @99_film
Directors Audrey Ewell – @AudreyEwell, Aaron Aites – @aaronaites, Lucian Read – @lucianread
After Tiller – @aftertillerfilm
American Promise – @PromiseFilm
Blood Brother – @bloodbrotherdoc
Executive Producer Leigh Blake – @leighactfive
Citizen Koch – @CitizenKochFilm
Cutie and the Boxer – @CutieAndBoxer
Director Zachary Heinzerling – @zacharyzenor
Dirty Wars – @DirtyWars
Director Richard Rowley – @bignoisefilms
Producers Civic Bakery – @civicbakery
Writer and Narrator Jeremy Scahill – @jeremyscahill
Gideon's Army – @GideonsArmyFilm
Director Dawn Porter – @dawnporterm
God Loves Uganda – @GodLovesUganda
Director Roger Ross Williams – @RogerRossWill
The Good Life
Director Sean Fine – @FineFilms
Inequality for All – @InequalityFilm
Manhunt – @MANHUNTDOC
Valentine Road – @ValentineRdDoc

Based out of the film deprived rust belt of Buffalo, NY, Jordan M. Smith is a staff writer and film critic for IONCINEMA.com, is a member of the Online Film Critics Society and has been making the rounds at Sundance, TIFF, and Hot Docs. When he's not gazing at the glow of a big screen, he's teaching as a tech librarian. Top Films From Contemporary Film Auteurs: P.T. Anderson (There Will Be Blood), W. Anderson (The Life Aquatic), Assayas (Carlos), Almodóvar (Broken Embraces), Coen Bros. (No Country For Old Men), Gibney (We Steal Secrets), Herzog (Grizzly Man), Kar-wai (Chungking Express), Kiarostami (Certified Copy), Malick (The Tree of Life), Morris (The Wog of War), Ross Bros. (Tchoupitoulas)
You may also like...
Andrew Droz Palermo (Rich Hill)
"This extended into the treatment of the kids, as much as humanly possible – I was on the ground shooting up and wide at them – trying to make them look larger than life, like heroes." Read more

Review

Interviews

In Theaters

08 Aug

23 Jul

18 Jul

11 Jul

09 Jul

04 Jul

02 Jul

27 Jun

Masthead

Facebook
Coming Soon
09/30/14
10/24/14
11/14/14