TIFF 2013′s CWC Includes Latest from Spielmann, Eimbcke, Rasoulof, Seidl & Corneliu Porumboiu
By Eric Lavallee on August 13, 2013
@ioncinema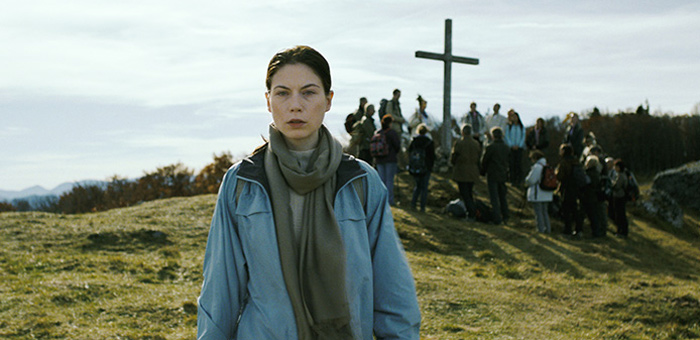 Final batch of TIFF titles were announced today and among the international hodgepodge of items trickling we find Berlin (Golden Bear winner Child's Pose), Cannes (The Selfish Giant – Europa Cinemas Label winner and Stranger by the Lake by Alain Guiraudie), Karlovy Vary (Crystal Globe winner Le Grand Cahier ) and Locarno (Corneliu Porumboiu's When Evening Falls on Bucharest or Metabolism) Film Fest items added to the Toronto Int. Film Festival's Contemporary World Cinema lineup. Alongside those that have already premiered elsewhere, the titles that have got our attention are world premiere offerings from the likes of award-winning Icelandic helmer Ragnar Bragason (Metalhead), Revanche's Götz Spielmann (October November – see pic above) and Mexican filmmaker Fernando Eimbcke's Club Sandwich. Here's the added titles to the section which already includes: Catherine Martin's A Journey (Une Jeune Fille), Ingrid Veninger's The Animal Project, Terry Miles' Cinemanovels, Bruce Sweeney's The Dick Knost Show, Peter Stebbings' Empire of Dirt, Sébastien Pilote's Le Démantèlement, Richie Mehta's Siddharth and Wiebke von Carolsfeld's Stay).
A Place in Heaven – Yossi Madmony, Israel North American Premiere
A Wolf at the Door – Fernando Coimbra, Brazil World Premiere
An Episode in the Life of an Iron Picker – Danis Tanović North American Premiere Bosnia-Herzegovina/France/Slovenia
Bad Hair – Mariana Rondón, Venezuela World Premiere
Bastardo – Nejib Belkadhi, Tunisia/France/Qatar World Premiere
The Bit Player – Jeffrey Jeturian, Philippines International Premiere
Blind Dates – Levan Koguashvili, Georgia World Premiere
Brazilian Western – René Sampaio, Brazil Canadian Premiere
Break Loose – Alexey Uchitel, Russia World Premiere
Child's Pose – Calin Peter Netzer, Romania North American Premiere
Club Sandwich – Fernando Eimbcke, Mexico World Premiere
Cristo – Rey Leticia Tonos Paniagua, Dominican Republic/France/Haiti World Premiere
The Dinner – Menno Meyjes, The Netherlands World Premiere
Eastern Boys – Robin Campillo, France North American Premiere
El Mudo – Diego Vega and Daniel Vega, Peru/France/Mexico North American Premiere
Friends from France – Anne Weil and Philippe Kotlarski, France/Germany/Canada/Russia World Premiere
Giselle – Toa Fraser, New Zealand International Premiere
Heart of a Lion – Dome Karukoski, Finland/Sweden World Premiere
Honeymoon – Jan Hrebejk, Czech Republic/Slovakia International Premiere
Hotell – Lisa Langseth, Sweden/Denmark World Premiere
The Immoral – Lars Daniel Krutzkoff Jacobsen, Norway World Premiere
Intruders – Noh Young-Seok, South Korea World Premiere
The Kids from the Port – Alberto Morais, Spain North American Premiere
iNumber Number – Donovan Marsh, South Africa World Premiere
Ladder to Damascus – Mohamad Malas, Syria/Lebanon/Qatar World Premiere
Le Grand Cahier – János Szász, Germany/Hungary/Austria/France North American Premiere
Life's a Breeze – Lance Daly, Ireland/Sweden International Premiere
Little Feet – Alexandre Rockwell, United States of America World Premiere
The Major – Yuri Bykov, Russia North American Premiere
Manuscripts Don't Burn – Mohammad Rasoulof, Iran Canadian Premiere
McCanick – Josh C. Waller, USA World Premiere
Metalhead – Ragnar Bragason, Iceland World Premiere
Ningen – Guillaume Giovanetti and Çagla Zencirci, Japan/Turkey World Premiere
October November – Götz Spielmann, Austria World Premiere
Old Moon – Raisa Bonnet, Puerto Rico World Premiere
Palestine Stereo – Rashid Masharawi World Premiere
Paradise: Hope – Ulrich Seidl, Austria/France/Germany North American Premiere
Qissa – Anup Singh, Germany/India/The Netherlands/France World Premiere
Rags and Tatters – Ahmad Abdalla, Egypt World Premiere
The Sea – Stephen Brown, Ireland North American Premiere
The Selfish Giant – Clio Barnard, United Kingdom North American Premiere
Something Necessary – Judy Kibinge, Kenya/Germany North American Premiere
Stop the Pounding Heart – Roberto Minervini, Belgium/Italy/USA North American Premiere
Stranger by the Lake – Alain Guiraudie, France North American Premiere
This is Sanlitun – Róbert I. Douglas, China/Iceland/Ireland World Premiere
Unbeatable – Dante Lam, China/Hong Kong North American Premiere
Under the Starry Sky – Dyana Gaye, France/Senegal World Premiere
When Evening Falls on Bucharest or Metabolism – Corneliu Porumboiu, Romania North American Premiere
White Lies – Dana Rotberg, New Zealand International Premiere
The Wonders – Avi Nesher, Israel International Premiere
To Repel Ghosts: Urban Tales from the African Continent
Homecoming (African Metropolis) – Jim Chuchu, Kenya International Premiere
Berea (African Metropolis) – Vincent Moloi, South Africa International Premiere
To Repel Ghosts (African Metropolis) – Philippe Lacôte, Ivory Coast International Premiere
Kwaku Ananse – Akosua Adoma Owusu, Ghana/Mexico/USA North American Premiere
Noah's Flood – Mark Dornford-May, South Africa World Premiere
Eric Lavallée is the founder, editor-in-chief and film critic at IONCINEMA.com (founded in 2000). Eric splits his time between his home base in Montreal, NYC, and is a regular at Sundance, Cannes and TIFF. He has a BFA in Film Studies at the Mel Hoppenheim School of Cinema. In 2013 he served as a Narrative Competition Jury Member at the SXSW Film Festival. Top Films From Contemporary Film Auteurs: Almodóvar (Talk to Her), Coen Bros. (Fargo), Dardennes (La Promesse), Haneke (Caché), Hsiao-Hsien (Three Times), Kar-wai (In the Mood for Love), Kiarostami (Taste of Cherry), Lynch (Mulholland Dr.), Tarantino (Pulp Fiction), Van Sant (My Own Private Idaho), von Trier (Breaking the Waves)
You may also like...
Trieste Kelly Dunn
"I focused on feeling wronged and that something was taken from her, and that taking it from someone else who deserved it felt heroic and right, despite it being wrong and irrational." Read more

Review

Interviews

In Theaters

18 Apr

11 Apr

04 Apr

02 Apr

28 Mar

21 Mar

14 Mar

07 Mar

28 Feb

Masthead

Facebook