Sight & Sound Magazine's Gift to Cinephiles: The Hitch's Vertigo vs. Welles' Kane Debate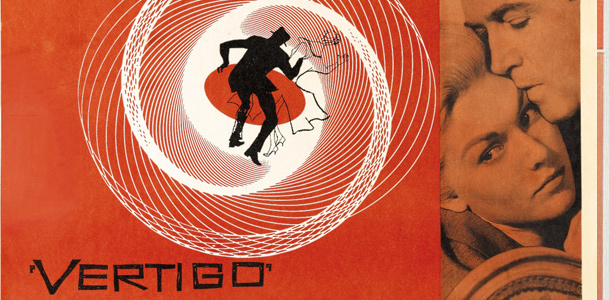 I fondly remember the glee I had at xeroxing from library archives a good chunk of Sight & Sound's top favorite list back in 92′ when cinephilia officially took over me and with further research I learned that any year that ends in a "2" meant that it was time to revisit the official order. Over the past three polls (80's, 90's and 00's) Alfred Hitchcock's 1958 classic progressively moved up the rankings making its way as announced today to the number one spot dislodging Orson Welles' Citizen Kane. My prediction for 2022: Another Brit filmmaker will continue to make strides in the top ten list – Stanley Kubrick's 2001: A Space Odyssey should move up several spots.
Based on 846 critics' top-ten lists and a Directors' poll of 358 entries it is Vertigo who ends a five decade reign of the iconic snow globe and the name "Rosebud". If anythin the list inspires a long-lasting debate, my top film happened to top S&S's first list but has fallen to the number 33 position. Here's the complete top 5 list followed by rankings of the previous years.
1. Vertigo – Alfred Hitchcock, 1958 (191 votes)
2. Citizen Kane – Orson Welles, 1941 (157 votes)
3. Tokyo Story – Ozu Yasujiro, 1953 (107 votes)
4. La Règle du jeu – Jean Renoir, 1939 (100 votes)
5. Sunrise: A Song of Two Humans – FW Murnau, 1927 (93 votes)
6. 2001: A Space Odyssey – Stanley Kubrick, 1968 (90 votes)
7. The Searchers – John Ford, 1956 (78 votes)
8. Man with a Movie Camera – Dziga Vertov, 1939 (68 votes)
9. The Passion of Joan of Arc – Carl Dreyer, 1927 (65 votes)
10. 8½ – Federico Fellini, 1963 (64 votes)
11. Battleship Potemkin – Sergei Eisenstein, 1925 (63 votes)
12. L'Atalante – Jean Vigo, 1934 (58 votes)
13. Breathless – Jean-Luc Godard, 1960 (57 votes)
14. Apocalypse Now – Francis Ford Coppola, 1979 (53 votes)
15. Late Spring – Ozu Yasujiro, 1949 (50 votes)
16. Au hasard Balthazar – Robert Bresson, 1966 (49 votes)
17= Seven Samurai – Kurosawa Akira, 1954 (48 votes)
17= Persona – Ingmar Bergman, 1966 (48 votes)
19. Mirror – Andrei Tarkovsky, 1974 (47 votes)
20. Singin' in the Rain – Stanley Donen & Gene Kelly, 1951 (46 votes)
21= L'avventura – Michelangelo Antonioni, 1960 (43 votes)
21= Le Mépris – Jean-Luc Godard, 1963 (43 votes)
21= The Godfather – Francis Ford Coppola, 1972 (43 votes)
24= Ordet – Carl Dreyer, 1955 (42 votes)
24= In the Mood for Love – Wong Kar-Wai, 2000 (42 votes)
26= Rashomon – Kurosawa Akira, 1950 (41 votes)
26= Andrei Rublev – Andrei Tarkovsky, 1966 (41 votes)
28. Mulholland Dr. – David Lynch, 2001 (40 votes)
29= Stalker – Andrei Tarkovsky, 1979 (39 votes)
29= Shoah – Claude Lanzmann, 1985 (39 votes)
31= The Godfather Part II – Francis Ford Coppola, 1974 (38 votes)
31= Taxi Driver – Martin Scorsese, 1976 (38 votes)
33. Bicycle Thieves – Vittoria De Sica, 1948 (37 votes)
34. The General – Buster Keaton & Clyde Bruckman, 1926 (35 votes)
35= Metropolis – Fritz Lang, 1927 (34 votes)
35= Psycho – Alfred Hitchcock, 1960 (34 votes)
35= Jeanne Dielman, 23 quai du Commerce 1080 Bruxelles – Chantal Akerman, 1975 (34 votes)
35= Sátántangó – Béla Tarr, 1994 (34 votes)
39= The 400 Blows – François Truffaut, 1959 (33 votes)
39= La dolce vita – Federico Fellini, 1960 (33 votes)
41. Journey to Italy – Roberto Rossellini, 1954 (32 votes)
42= Pather Panchali – Satyajit Ray, 1955 (31 votes)
42= Some Like It Hot – Billy Wilder, 1959 (31 votes)
42= Gertrud – Carl Dreyer, 1964 (31 votes)
42= Pierrot le fou – Jean-Luc Godard, 1965 (31 votes)
42= Play Time – Jacques Tati, 1967 (31 votes)
42= Close-Up – Abbas Kiarostami, 1990 (31 votes)
48= The Battle of Algiers – Gillo Pontecorvo, 1966 (30 votes)
48= Histoire(s) du cinéma – Jean-Luc Godard, 1998 (30 votes)
50= City Lights – Charlie Chaplin, 1931 (29 votes)
50= Ugetsu monogatari – Mizoguchi Kenji, 1953 (29 votes)
50= La Jetée – Chris Marker, 1962 (29 votes)
The Sight & Sound Top Ten Poll: 2002 (Critics' poll)
1. Citizen Kane (Welles)
2. Vertigo (Hitchcock)
3. La Règle du jeu (Renoir)
4. The Godfather and The Godfather part II (Coppola)
5. Tokyo Story (Ozu)
6. 2001: A Space Odyssey (Kubrick)
7. Battleship Potemkin (Eisenstein)
7. Sunrise (Murnau)
9. 8½ (Fellini)
10. Singin' In the Rain (Kelly, Donen)
The Sight & Sound Top Ten Poll: 2002 (Directors' poll)
1. Citizen Kane (Welles)
2. The Godfather and The Godfather part II (Coppola)
3. 8½ (Fellini)
4. Lawrence of Arabia (Lean)
5. Dr. Strangelove (Kubrick)
6. Bicycle Thieves (De Sica)
6. Raging Bull (Scorsese)
6. Vertigo (Hitchcock)
9. Rashomon (Kurosawa)
9. La Règle du jeu (Renoir)
9. Seven Samurai (Kurosawa)

The Sight & Sound Top Ten Poll: 1992 (Directors' poll)
1. Citizen Kane (Welles)
2. 8 ½ (Fellini)
2. Raging Bull (Scorsese)
4. La strada (Fellini)
5. L'Atalante (Vigo)
6. The Godfather (Coppola)
6. Modern Times (Chaplin)
6. Vertigo (Hitchcock)
9. The Godfather Part II (Coppola)
10. The Passion of Joan of Arc (Dreyer)
10. Rashomon (Kurosawa)
10. Seven Samurai (Kurosawa)
The Sight & Sound Top Ten Poll: 1992 (Critics' poll)
1. Citizen Kane (Welles)
2. La Regle du Jeu (Renoir)
3. Tokyo Story (Ozu)
4. Vertigo (Hitchcock)
5. The Searchers (Ford)
6. L'Atalante (Vigo)
6. The Passion of Joan of Arc (Dreyer)
6. Pather Panchali (Ray)
6. Battleship Potemkin (Eisenstein)
10. 2001: A Space Odyssey (Kubrick)
The Sight & Sound Top Ten Poll: 1982 (Critics' poll)
1. Citizen Kane (Welles)
2. La Règle du jeu (Renoir)
3. Seven Samurai (Kurosawa)
3. Singin' in the Rain (Kelly, Donen)
5. 8½ (Fellini)
6. Battleship Potemkin (Eisenstein)
7. L'avventura (Antonioni)
7. The Magnificent Ambersons (Welles)
7. Vertigo (Hitchcock)
10. The General (Keaton)
10. The Searchers (Ford)
The Sight & Sound Top Ten Poll: 1972 (Critics' poll)
1. Citizen Kane (Welles)
2. La Règle du jeu (Renoir)
3. Battleship Potemkin (Eisenstein)
4. 8½ (Fellini)
5. L'avventura (Antonioni)
5. Persona (Bergman)
7. The Passion of Joan of Arc (Dreyer)
8. The General (Keaton)
8. The Magnificent Ambersons (Welles)
10. Ugetsu Monogatari (Mizoguchi)
10. Wild Strawberries (Bergman)
The Sight & Sound Top Ten Poll: 1962 (Critics' poll)
1. Citizen Kane (Welles)
2. L'avventura (Antonioni)
3. La Règle du jeu (Renoir)
4. Greed (von Stroheim)
4. Ugetsu Monogatari (Mizoguchi)
6. Battleship Potemkin (Eisenstein)
7. Bicycle Thieves (De Sica)
7. Ivan the Terrible (Eisenstein)
9. La terra trema (Visconti)
10. L'Atalante (Vigo)
The Sight & Sound Top Ten Poll: 1952 (Critics' poll)
1. Bicycle Thieves (De Sica)
2. City Lights (Chaplin)
2. The Gold Rush (Chaplin)
4. Battleship Potemkin (Eisenstein)
5. Intolerance (Griffith)
5. Louisiana Story (Flaherty)
7. Greed (von Stroheim)
7. Le Jour se lève (Carné)
7. The Passion of Joan of Arc (Dreyer)
10. Brief Encounter (Lean)
10. La Règle du jeu (Renoir)