Friends With Money: Aging Europeans a Case Study in Robelin's Sophomore Feature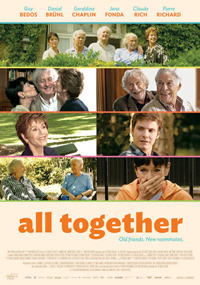 Inevitably, Stephane Robelin's latest feature, All Together (a mutated English translation of the original French title, which literally means If We All Lived Together? ) will be compared to this year's contrived but hugely successful geriatric adventure, The Best Exotic Marigold Hotel, since this seems tailor made for that demographic. But this French feature, while not an overtly successful feature, manages to avoid feeling strained with false melodrama and hammy end-of-the-road wisdoms. Instead, this subdued venture gathers some legendary and some undervalued thespians for a pleasant, if inconsequential look at getting older.
Five friends that have regularly gotten together for the past forty years are all beginning to discover that they need to start planning soon for the inevitable. Anne (Geraldine Chaplin) and Jean (Guy Bedos) own a large home not fully utilized since their children and grandkids hardly come to visit anymore. She's convinced that if they put a swimming pool in their backyard, this will get them to visit more often. Jean is opposed to a pool, but after a recent get together, it's evident that Albert (Pierre Richard) is beginning to suffer memory loss, while his wife, Jeanne (Jane Fonda), has a terminal illness she's not sharing with anyone. Jean thinks that pools are communal and agrees to build it only if they can invite Albert, Jeanne, and their mutual friend Claude (Claude Rich) to live with them, and thus, avoid nursing home possibilities for them all. Annie is opposed to this idea until Claude, who has a predilection for hookers, has a serious heart attack, an event that soon has all the old friends rooming with Annie and Jean. But, forty years together means there's a lot of baggage, and the new living situation causes the past to surface and cause some minor squabbles. At the same time, Albert, who can no longer take care of his large dog properly, must hire a dog walker, Dirk (Daniel Bruhl), who just so happens to be doing a thesis on the elderly.
The problem with All Together, overall, is its rather stale air of conventionality. There's really nothing remotely engaging going on, though the premise could have severely abused for all the wrong reasons. At the same time, there's a sense that some of these performers are really quite underutilized. Here we have two daughters of legendary American film stars with Geraldine Chaplin and Jane Fonda, both icons in their own right. Fonda, her character here American, is a delight to see in her first French film in nearly four decades (check out her classic work with Godard in 1972's Tout Va Bien and Rene Clement's 1964 Joy House), and she clearly gets the more flashy role and we first meet her here inquiring about finding "jolly" looking coffins. Chaplin's got the more subdued role (and looks great for her age as well, a counterpoint to Fonda, who's had some help). Their three male counterparts (all well known faces in French cinema) appear as foils in comparison, never quite reaching full characterization, instead best remembered by what ails them. The film's biggest fault is the Daniel Bruhl character, a dog walker that just so happens to be doing a thesis on the elderly, yet seems blown away at the audacity of Fonda's character asking if he will be covering geriatric sexuality.
Several times, All Together insistently confirms that growing old doesn't mean a complete loss of a sexual appetite, which gives the film a peculiar American feel. However, Bruhl's study allows cinematographer Dominique Colin to experiment with the rather generic look of the film by getting some of Bruhl's hand held camera footage of the gang, but Bruhl's noted penchant for big breasted Turkish women gets a silly, eye rolling cap during the final sequences.