Searching For Sugar: New Baseball Doc Fails as Expose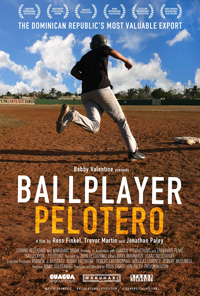 There's definitely nothing revolutionary about Ballplayer: Pelotero, the new documentary concerning the baseball industry in the Dominican Republic, detailing two stories that are meant to be representational for many young men growing up in a place that produces a fifth of all US players in Major League Baseball (and in a nation 2% the size of the US). It's not hard to imagine that researching such skewed statistics unveils a bureaucratic machine that runs on blackmail, an unfair class system, and dirty money. What's uncovered here is hardly shocking, provoking, or even gritty, and instead simply provides an exclusive look at an exploitative dynamic providing Americans with one of their many taken for granted entertainments. Three directors, Ross Finkel, Trevor Martin, and Jon Paley all take credit for this venture. John Leguizamo narrates.
Ballplayer: Pelotero follows two young men on the cusp of being signed with a major American team, Jean Carlos Batista and Miguel Angel Sano. They're both shortstops, around or about to be 16 years of age, the legal age requirement. Sano is one of the most highly touted prospects the country has seen in some time—it's rumored that he will be offered a multi-million dollar offer. But when his age comes into question (all Latin players must have their age legally investigated and verified due to several high profile scandals from years past), no major team will field Sano an offer until the investigation clears. As the July 2nd deadline nears, a date where deals are made for the new season, the MLB drags the investigation, seemingly maliciously, until it's learned that one member of the MLB might be holding it up on purpose so he can snag the young player with the only offer he will likely receive due to the scandal. It's a bitter and unfair reality. As for Batista, a secret kept from him by his parents endangers not only his prospects, but his relationship with his coach, a father figure for the young man since his father passed away years before. It's a bitter and unfair reality.
While it totes itself as a "never before seen look" at the MLB training camps in the Dominican Republic, this isn't entirely true. A 2008 film directed by Anna Boden and Ryan Fleck, Sugar, details the fictional experience of a player from the Dominican Republic recruited to play in the minor leagues, where one young man gets a rude awakening as to the actual possibilities of achieving the American dream he's had drummed into his head since he was a child back home. The same goes for the two young men detailed here, raised on a virtual mill that exists only to develop and sell young men quickly and profitably. The directors of Ballplayer paint the MLB of the Dominican Republic (the only other MLB is in New York) as a mafia-like organization, setting out to screw over the lives of young players if need be. But no one turns a lens back up to our own shores, where the demand for the production of new players, and the next best thing, perpetually resides. Ballplayer: Pelotero is neither surprising, intriguing, nor enthralling. Director Jonathan Paley states he was motivated to find out why so many ballplayers are produced from one tiny place so much more effectively and for such less cost. Sorry, but what kind of a system would you think would yield such results? It's a bitter and unfair reality. And yes, 'pelotero' means ballplayer, so even the title is an unnecessary redundancy.