From the Wicked, Carry Us Away: Saulter's Debut an Energetic Cold War Period Piece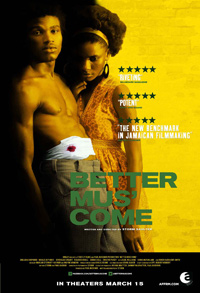 Jamaican writer/director Storm Saulter makes an impressive debut with period piece Better Mus' Come, a drama depicting the vicious political climate in 1978 Kingston. Utilizing a cast of mostly nonprofessional actors, Saulter explores the unrest caused by the gangland violence enacted by the two political parties of the time, the PNP (People's National Party, referred to as the Socialists) and the JLP (Jamaica Labour Party, referred to as the Labourites). What's even more impressive than Saulter's co-writing and directorial skills has to be the visually stunning look he brings to the proceedings as a first time cinematographer. Vibrantly arresting, Saulter explores the history of Cold War politics on another small island, one we're not accustomed to seeing.
In 1978 Kingston, the reigning party is the PNP, led by Prime Minister Michael Manley (Roger Guenveur Smith). As he speaks at a rally, denouncing class divisions and promising equality, the minister's speech is interrupted by a gang working for the JLP when they open fire with guns and hand grenades. One member of the gang is Ricky (Sheldon Shepard), an impoverished single father struggling to make ends meet as a mason, yet joining in the JLP crusade stealing ballot boxes by day and cement from construction sites in the middle of the night. At a party, Ricky meets Kemala (Sky Nicole Grey), a beautiful young woman from the countryside he has been seeing around, and amidst the daily chaos he attempts to pursue a relationship with her. It's not long before Ricky realizes the consequences of his gang affiliations when he is denied legal employment. As vicious and violent attacks from both sides make daily life unbearable, Ricky decides that he must take Kemala and his child away from Kingston if they want to live, but he may have waited too long to escape.
Our entry into the political climate of 1978 Jamaica may have a limited scope, told mostly from the point of view of Ricky and several of his cohorts, but director Saulter manages to avoid oversimplifying complex issues too immense for the narrative at hand, as say something like Mario Van Peebles did with the Black Panther Party in Panther (1995). Neither do we have an overblown romantic subplot for the purposes of escapism, as Saulter's focus quiet efficiently revolves around Ricky's navigations through a perilous day to day existence, often exploding in sparse but effectively used moments of violence.
At the center of Saulter's film is an engaging performance from lead Sheldon Shepard. While Roger Guenveur Smith, in a bit role, should be a recognizable face due to his countless number of credits, including several Spike Lee titles (he pops up in Panther, too), Better Mus' Come is also the debut of the beautiful Sky Nicole Grey, who went on to star in Andrew Dosunmu's memorable 2011 film, Restless City. While Saulter does favor a tad too many slow motion sequences, there's a hypnotic pulse to Better Mus' Come, particularly with how he blends reggae beats into the soundtrack, which also consists of continual synth sounds that puts one in mind of dramatic thrillers of the 70s and 80s featuring compositions from Giorgio Moroder. Basking in the electric colors and vibrant landscapes is a violent and melancholy group of people trying to live their daily lives, their plight perhaps phrased best by Grey's Kemala who asks Ricky, "Why is it so easy to die for nothing?"