Stalemate: Mungiu follows up Palme d'Or Winner with Intense Religious Stand-off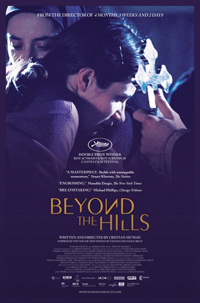 Five years have passed since Romanian director Cristian Mungiu's critically acclaimed 4 Months, 3 Weeks and 2 Days hoisted Romania into the World Cinema Big Leagues by winning the coveted Palme d'Or at the 2007 Cannes Film Festival. Winner of the Best Screenplay and Best Actress ex aequo for both lead performances of Cristina Flutur and Cosmina Stratan, Beyond the Hills is a heightening of that style to its most intense and harrowing essence – one that has proven to be one of the most divisive films from the so-called Romanian New Wave yet.
Based on a real-life incident, Mungiu's latest follows a lone young woman into a remote monastery to find her childhood friend and to resettle in Romania. The film opens with a tearful reunion of the two women when Alina (Cristina Flutur) returns from working in Germany. It is obvious that her experience in Germany was unpleasant but the details are not divulged. Her friend, Voichita (Cosmina Stratan), is now a nun in the monastery that she was sent to after both girls were expelled from the orphanage they grew up in. It becomes obvious very soon that Alina and Voichita were once very close and Mungiu provides us with clues that were/are lovers, but he allows the details of their history to teem in the background. As the film progresses, it is clear that Alina intends to take her friend away from the archaic and traditional way of life she has embraced since their separation. Alina also makes an arduous attempt to rekindle the romantic bond they once shared, but this is met with indifference and, ultimately, rejection.
Alina's futile attempts to persuade her friend to leave the monastery become increasingly frustrated, leading to anger and, thus, a volatile tug-of-war with the church and its doctrines. Her behavior is observed and monitored by the male head of the monastery and eventually, drastic measures are taken to cure Alina, whose mental state and anxiety are confused with something more religiously sinister. Mungiu's film may have been slammed with adjective like 'boring' and 'repetitive' from its detractors, but Mungiu has deliberately crafted his film to be a rigorous and stubborn examination of inertia. The complex relationship of the two women can of course be very frustrating, for it neither advances or recedes the way relationships traditionally evolve in narrative cinema. The girls, like the Catholic church at the center of the rift between them, are caught in a standstill that refuses to progress.
Mungiu has delivered an ample package that is brimming with delicate touches and builds off of 4 Months, 3 Weeks and 2 Days while still being recognizably his. Punctuated with long takes and pregnant silences that are signatures of the Romania movement, the stormy and windy setting and ambiance lends a brooding sense of anguish. Though they couldn't all be awarded, the entire cast performs superlatively. The widescreen cinematography is deliberately tight and constricted but unobstrusive, complementing the mental anxiety of the entire, hysterical scenario. Beyond the Hills is an outstandingly intense work of art. Here's hoping that Mr. Mungiu does not make us wait another five years as he continues to explore the vagaries of human behavior.