Sins of the Father: Krawitz's Adaptation Promises More Than It Delivers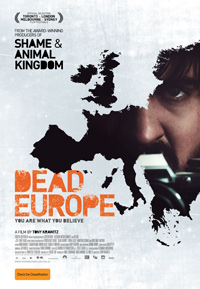 You can't escape the past, and if your family has demons haunting it from bad karma dating back to World War II, someone's going to have to reckon with them. At least that's what's in store for a Greek family that relocated to Australia in Tony Krawitz's adaptation of Christos Tsiolkas' novel, Dead Europe. The second fictional film from Krawitz, who first directed the 2005 film, Jewboy, begins with a moody, ominous setup, and features a nonchalantly gay lead character, whose sexuality, refreshingly, has no correlation to the proceedings. However, the excellent build up is let down by a second half that feels inevitably predictable, another title in a series of film stories capitalizing on the horrors of Old World Europe.
Isaac Raftis (Ewen Leslie) is a celebrated Australian photographer who has just been invited to Athens for an exhibition of his work. It turns out that his father had emigrated from there during the last World War and is none too happy about Isaac's visit to Greece, where it seems bad memories reside with the relatives left behind. Isaac's father gets so worked up that he dies in a freak car accident, significantly altering Isaac's excitement about the trip, though he decides that he must spread his father's ashes in his home village outside of Athens, which his mother vehemently opposes. And with his older, absent brother, Nico (Marton Csolkas) holed up in Budapest, he is left with making the decision on his own. Once there, he meets his cousin, Giulia (Danae Skialdi), a breathtaking beauty that fills him in on the strange curse incurred upon his father. As he navigates the streets of Athens, a hookup in the park causes him to stumble upon a young boy being beaten. Rescuing Josef (Kodi Smit-McPhee), he follows him back to his hovel where a drugged up prostitute claiming to be his mother is his guardian. Promising to come back for the boy to take photographs, Isaac finds that the boy mysteriously disappeared upon return. As he journeys to his father's village, the boy, supposedly dead according to neighbors, keeps popping up. As Isaac unearths more information about his father's actions during the war, Isaac is called to Paris by an old friend of the family, and finally, must travel to Budapest for help from his mysteriously absent brother. What Isaac confirms has been right under the surface all along and the time has come for a reckoning.
Playing like a genre re-do of the extremely successful (and also mainstream oriented) Sarah's Key from last year, Dead Europe manages to be an eerie little vehicle during its initial setup in Australia. Ewen Leslie, the lead from the director's previous film, is an extremely engaging screen presence, and he shoulders the brunt of the entire film. However, the more information revealed to us after his visit to Athens only serves to check off one predictable moment after the other. The beautiful Danae Skialdi (from Dennis Illiadis' first film, Hardcore, 2004) is also likeable here, and it's too bad she is left behind in Greece. Marton Csolkas pops up for a brief, though melodramatic and ludicrous last part of the film in Budapest, and Kodi Smit-McPhee of The Road (2009) and Let Me In (2010) proves he's attracted to dark, compelling projects. All the right elements are in place for Krawitz, so it's just too bad that perhaps the problem lies with the original source material, a foreboding tale of karmic revenge. While perhaps not all of the film holds up for the entire running time, Krawitz is a director worth watching.
Reviewed on September 07 at the 2012 Toronto International Film Festival – CONTEMPORARY WORLD CINEMA Programme.
84 Min