Out of the Bedroom & Into the Streets: Jude's Latest a Bitter Drama of Cyclical Misery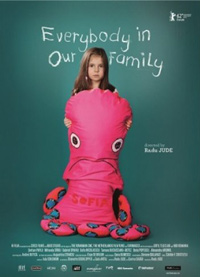 Now at the end of a decade in existence, the Romanian New Wave has another veritable name to add to its annals with Radu Jude, whose excellent third feature film, Everybody In Our Family, rounds the festival circuit, and hopefully will enjoy a reputation that rivals the works of Muntean and Mungiu. A day-in-the-life of kitchen sink miserablism, this uncomfortable little domestic drama is an irresistibly well acted venture that pulls you in quick and keeps you enthralled to its final few minutes. With a plot that sounds like it very easily could veer into camp black comedy, Jude's film keeps a level of dead seriousness that laces those laughs with a discomforting edge.
Marius (Serban Pavlu) is a divorced dentist in his late thirties. He wakes up one morning in the middle of his apartment, (which is in complete disarray and decorated like a young frat boy's, a tattered poster of David Fincher's Seven on the wall), attempting to call someone and cursing when they don't pick. We learn that he's about to take his young daughter on a trip to the beach for the weekend and we follow him as he gets on his bike, attempting to find wrapping for a large, stuffed, pink octopus as a (late) birthday present, and then proceed to his parents' home to borrow their car. Once there, a seemingly calm interaction explodes almost immediately into a torrent of emotions, as Marius only visits once a year, he's being taken advantage of by his ex-wife, etc. This interaction serves as a preface for the treat we have in store for us.
Marius finally reaches ex-wife Otilia's (Mihaela Sirbu) apartment, only to find she has gone to the salon, a place where she notoriously does not answer her cell phone. Their daughter Sofia (Sofia Nicolaescu) has been left in the care of grandma Coca (Tamara Buciuceanu-Botez), and mom's new boyfriend, Aurel (Gabriel Spahu), who both live there. It looks as if Otilia forgot it was Marius' turn to take Sofia, and on top of that, the little girl was pretty ill just the night before. When Coca and Aurel try to dissuade Marius from taking Sofia before Otilia has time to get home, an unfortunate series of events unravel as Marius' barely hidden temper flares quickly out of control.
Before we witness the arresting and uncomfortable explosion of emotions between Marius and his parents, we get several glimpses of his misguided assholism, even though, for most of the feature, we're compelled to be on his side of the conflict. Before he gets to Otilia's, Marius stops to by flowers to woo the easily influenced Coca for entry, but remarks to the vendor, who suggests a more expensive flower, "The lady's not worth that much." At first, beyond the initial awkwardness caused by separation or divorce, the film runs at an even keel.
Andrei Butica's camerawork keeps things up close and personal and we get comfortable with Marius and the three people, though at odds, are occupying the same space. Sofia seems wary of him, calling him by his first name rather than 'dad,' and they have a conversation about the afterlife. When she asks if she will go to heaven, Marius responds that that's where "Everybody in our family," will go, that is, with the exception of one of his uncles. Of course, what follows is an overt criticism of the lip service that is all religious rhetoric, including these flaccid rationalizations of those heaven or hell bound.
Tiring of waiting for Otilia, Marius attempts to barge out of the apartment with Sofia, but this ends disastrously, and sets the stage for the dramatic episode that follows when Otilia finally gets there. The main cast, including the very young Sofia Nicolasecu, are uniformly excellent, and there's a fast paced naturalism that makes them seem like a realistically frayed family. Serban Pavlu, who has worked with Jude on his previous two features, manages to fluctuate between wildly angry to wildly desperate and regretful in a matter of moments, and you may not agree with his actions, but, you might sympathize with him.
For comparison's sake, this is a more digestible counterpart to Cristi Puiu's 2010 Aurora, also a portrait of patriarchal meltdown, though more psychologically methodical. But this is the sort of desperation that has the ring of truth, unlike a similar 2012 US title that deals with a young girl oscillating between ridiculous parents with What Maisie Knew, which never manages to feel genuine or engaging. Surprisingly adult (an angry neighbor screams at Marius from a window "May the devil f*ck your lungs" at one point, which does sound quite serious), Jude throws us into this out of control emotional cess pool and dares you to pick a side. Puffing on an electric cigarette throughout, the maxed out Marius asks a stranger for a cigarette, who innocently quips, "Rise up and walk, Lazarus," as he lights it. Neither of them may realize the implications, but Jude does, and leaves us at a delirious high note that will make Everybody in Our Family stay with you long after you leave.
Reviewed on November 02 at the 2012 AFI Film Festival –WORLD CINEMA Programme.
107 Min.