Bonjour Tristesse: Mia Hansen-Love Tears Apart Hearts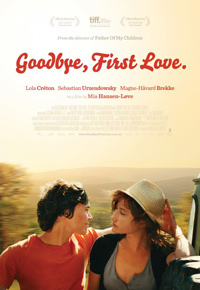 Returning with her third film, Goodbye, First Love, Mia Hansen-Love revisits themes of separation and grief after the loss of a loved one. But whereas her previous work, The Father of My Children (2009) focused on a family recovering after a father's suicide, her latest work depicts a universal subject, the defining moment of separating from your first love. With expert command of nuanced images, a haunting soundtrack, and an engaging performance from her lead character, Hansen-Love has made a compelling and melancholy film about the contradictory power of love, how it shapes us, destroys us, saves us, and never lets us go.
We meet the 15 year old Camille (Lola Creton) as she's consumed by an intense relationship with Sullivan (Sebastian Urzendowsky), a slightly older young man who seems to reciprocate her feverish vehemence when they are together, but who keeps disappearing for days at a time to party with his friends. Then suddenly Sullivan announces to his mother that he will be dropping out of school to travel to South America with his friends….and will not be taking Camille with him. Devastated that he will be leaving her, Camille admonishes Sullivan for abandoning her, causing much turmoil for them during their final weekend spent together. Upon leaving, Sullivan writes many an urgently worded letter to Camille, who continues her studies yet painstakingly maps out her distant boyfriend's travels with pins on a map tacked to the wall in her room. But finally, after some time, Sullivan's letters trail off after he realizes that the pain of being apart and thinking of her is too much to handle, so he must move on. Seemingly unable to get over her loss, it takes quite some time for Camille to transfer her energies into a positive direction, finally deciding to pursue a career in architecture, a language she understands. One pixie cut later, and she's fallen in love, a different kind of love, with her recently divorced Norwegian instructor, Lorenz (Magne-Havard Brekke). But just as she seems to be completely stable and content, Sullivan returns to her life, and her youthful passion is reignited.
The film's major problem lies in the passage of time Compared to the face of the nubile Lola Creton. While she gives a good performance as the disconsolate Camille, nearly a decade passes from when we meet her at 15 to when the film closes, and Ms. Creton, who is still a teenager in real life, distractingly looks the same as the years go by. When she announces that she will be made a project manager of a lucrative architectural project, one can't help but think this was the same 15 year old mooning over not wanting to be left alone only several scenes before.
But overall, Mia Hansen-Love once again proves herself to be a director whose work is definitely worth seeking out. Her command of tone and style elevates seemingly prosaic material into an exquisite embodiment of melancholy. There's a naturalness to Goodbye, First Love that could seem banal, but scenes like the one where Camille and Sullivan go on their last vacation to a country cabin where they share hardly any dialogue as they explore the landscape and lounge in the grass, evokes feelings that words only wish they could convey more satisfactorily.
A beautiful duet by Johnny Flynn and Laura Marling called "The Water" threads throughout the narrative, a haunting melody (with lyrics almost too direct) that conveys, as close as words can, the feeling Hansen-Love wishes to evoke. A red bikini, a water painting, a haircut, an architectural sketch, these are all images on display that evoke these same feelings of passion, yearning, evolving identities, and how the courses of these things in our lives are shaped by love. Mia Hansen-Love is the partner of another excellent director, Olivier Assayas. We can only hope that they continue to influence each other to keep making beautiful works of cinematic art.