Reviews
In the House | TIFF 2012 Review
Write On: Ozon's Latest an Exercise in Authorial Manipulation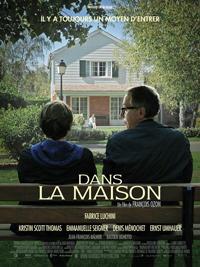 The steadily working Francois Ozon continues with his playful dark comic streak in his latest, In the House, an adaptation of a play by Juan Mayorga. A thriller with literary machinations, not unlike Swimming Pool (2003), one of Ozon's most well known features, his latest is a low key narrative, one that starts out as a broad caricature loosely criticizing class ideals but then coils tightly to an introspective finale on manipulation and a cheeky exploration of the truth.
French teacher Germain (Fabrice Luchini) is all set to start another school year after spending a leisurely summer reading. The new school year is beginning with some major changes, namely that all students will now be required to wear school uniforms, a concept Germain disagrees with, as this is seen as a move to make all the students equal when on the premises. He gives his new class a routine assignment, asking them to write an essay on what they did for the weekend. Germain discovers an intriguing essay from a sixteen year old boy, Claude Garcia (Ernst Umhauer), in which the boy insinuates that he voyeuristically peered into a schoolmate's house all summer and finally ingratiated himself upon the boy as a math tutor to wheedle his way into the house. Claude, a boy from a lower economic standing than his classmate Rapha (Bastien Ughetto), finds himself critiquing the ridiculous middle class life of this family, yet finds himself attracted to and fascinated by Rapha's mother, Esther (Emmanuelle Seigner), a bored housewife. Germain shares Claude's essays with his wife Jeanne (Kristin Scott Thomas), a woman with an art gallery in danger of going out of business, and they both become voyeurs themselves into Claude's continued writings of the family, which Germain encourages. But everyone starts to get uneasy when Claude's writing about weekend proclivities with Rapha's family become more and more unhealthy, and though Germain assumes that Claude is only using the scenario as inspiration, he suspects Claude may indeed be only "writing what he knows." Meanwhile, Germain's relationship with his wife finds itself spinning out of control as Jeanne is convinced he is attracted to his young pupil.
With In the House we have Ozon returning to a darkly comic tone exploring the menace lurking behind daily, seemingly banal activities and rituals. It's got lofty, literary aspirations, and it more than amply lives up to them. Luchini is terribly entertaining here (though he usually is) and his Germain is like a sad-sack version of the Rampling character from Swimming Pool, fascinated with and living through the experience of a younger plaything. The always excellent Scott Thomas gets to play comic foil here, her art gallery of penis swastikas and dictator headed sex dolls going for broad laughs, though her character gets a bit more rounded out in the second half. Of course, Ozon should hope we realize that he's manipulating us as much as Claude is manipulating the overly eager Germain, and this little mind game is mostly successful.
The biggest detraction to this otherwise pleasing affair is how it stands up against Ozon's own body of work. In the House almost feels like mid-career Chabrol, sexually playful mindf*uckery with a sharp little brain. But compared to Ozon's earlier efforts, like See the Sea (1997), Sitcom (1998), or Criminal Lovers (1999), his latest feels quite tame. If there's any major complaint about this otherwise artful affair, it's that the narrative arc and lasting implications feel quite fleeting. But nevertheless, Ozon's output is nothing short of entertaining.
Reviewed on September 11 at the 2012 Toronto International Film Festival – SPECIAL PRESENTATIONS Programme.
105 Min