An Incredible Mess: Todd Berger's Apocalypse a Hilarious Gas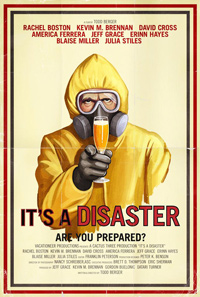 The end of days have never looked like a better time to spend with friends than they do in director Todd Berger's latest film, a gleeful exploration of morbidity, It's a Disaster. Obviously made on a scanty budget, this one setting comedic extravaganza seems all the better for its tight containment, featuring an exciting concept, a hellaciously dynamite screenplay, and a group of talented actors all obviously having a good time—you'll wish, as they do, that an end weren't in sight.
Four couples are about to converge for a semi-regular couples brunch at the home of Pete and Emma (Blaise Miller and Erinn Hayes). While nearly all of them have been friends for years, the Debbie Downer of the bunch, Tracy (Julia Stiles) is bringing her recent boyfriend, Glenn (David Cross), to meet her friends for the first time. It's seems that Pete and Emma have gathered their friends together to announce something important, if the awkward and tense atmosphere isn't enough to clue you in, but the other couples seem oblivious, including the hippie vegan Lexi (Rachel Boston) and her laid back hubby Buck (Kevin Brennan), along with the forever engaged Hedy (America Ferrara) and Shane (Jeff Grace). We learn that there's another couple, the chronically tardy Jenny and Rob (Laura Adkin and Rob McGillivray), still to be expected. As Pete and Emma drop their explosive news, several dirty bombs go off 12 blocks away from them in downtown Los Angeles, with toxic radiation (and something more fast acting and far worse, they soon learn), causing the couples to remain stuck together in one home, possibly during what may be their last few hours to live. As secrets are revealed and as each character inadvertently chooses a coping strategy, they must decide, should they try to enjoy the time they have left, or plot survival strategies?
There's been plenty end-of-the-world scenarios across many a genre (not to mention Chris Gorak's 2006 thriller, Right At Your Door, similarly about a dirty bomb that goes off in Los Angeles), but that perhaps makes It's a Disaster even more merry for it's ability to remain fresh and virile in an overindulged and over explored scenario. Amazingly, each of his eight characters manages to retain a distinct personality, not dependent upon clichéd stock devices (and, interestingly, Berger stated that each character was modeled after the eight stages of grief). Truly a comedic ensemble effort (though Stiles, Brennan and Cross should definitely be singled out for some excellent work here), there's not a moment of dead time on the screen, and Berger gives himself a memorable cameo. While it is a tried and true formula, that of trapping clashing personalities together in claustrophobic proximity, but It's a Disaster is exactly the kind of comedy that's been missing from American independent and mainstream cinema. Writer/director Todd Berger's new film (also a member of a comedic film group, The Vacationeers, with Kevin Brennan, Jeff Grace, and Blaise Miller) is the business. If only the end of the world could happen more than once.
Reviewed on June 20 at the 2012 Los Angeles Film Festival – Summer Showcase.
88 Min