Guy Maddin Goes Talkie with Gangsters, Ghosts, and Glory Holes Galore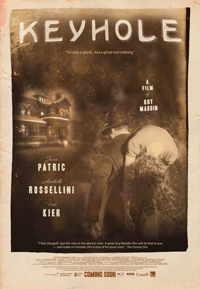 The expressionist Winnipegger's new film Keyhole is just as singular as it is familiar, registering as an undeniable Maddin experience, even if it could also be labeled 'just another Maddin experience'. Taking cues from cult icons The Bowery Bros., this Homer-inspired domestic epic is a blast, if resolutely exhausting by the end. Talking aside, little is surprising in the formal department – the films incorporates a hyper, black & white aesthetic that has long been Maddin's trademark. Intentionally hypnotized – if not hypnotic – performances from his leads, including a winning Jason Patric, stamp the corners with a biting, absurdist humour that remains Maddin's purest talent. Looking sleek and professional in a crisp HD resolution, the Canadian seems to be progressing his style in baby steps, clinging tightly to his reputed signatures.
Standing as the most idiosyncratic adaptation of The Odyssey since the Coen bros. southernized it in O Brother, Where Art Thou?, Keyhole sets the whole story in a creaky, ghoul-infested mansion. Ringleader Ulysses (Patric) storms in on a rainy night looking for his wife Hyacinth (Isabella Rossellini). Cutting in and out of scenes that feel of a different time, there is ambiguity over whether what we're seeing is a rush of memories, or a concurrent ghost story. Maddin regular Louis Negin plays a dual role as Calypso and Hyacinth's villainous father, though as the former he is hardly convincing as female, prompting a multiplicity of genders that has often preoccupied the filmmaker.
Tying in with the autobiographical nature of much of Maddin's work, Keyhole is essentially about one man's journey to rectify is past demons with his family. Vaguely alluding to Rossellini's role in Blue Velvet, the film's first lines are a repetition of the phrase "remember your disease" (playing off of her Lynch line 'he put his disease in me'), or in other words, 'deal with your familial baggage'. The correlation of illness and blood relations is hardly inappropriate, especially considering the presence of Hyacinth's father, who could more be described as a swollen mole. Those familiar with Homer's Odyssey will have a ball connecting characters and things with their memories of the long-winded story, especially when a penis in a glory hole stands in as a wink to the Cyclops.
Maddin's love of German expressionism is in full force in the rapid editing and close-ups, but the graininess has taken a back seat. Coming off of his quite uncharacteristic, Jack Smith-esque short The Little White Cloud That Cried, if was a tad disheartening to see him abandon colour, as he'd drawn up a distinct palette that was refreshingly vibrant. Colour makes a momentary appearance in an INLAND EMPIRE-inspired push into another universe by penetrating a rococo fabric, but that's the extent of it. Epitomizing a transitional film, Keyhole works best as a display of experiments that Maddin has been toying with, and might utilize to a more meaningful application in the future, squarely under the guise of a fully formed idea. It works as a stream of consciousness, but is forgotten for its lack of lingering substance.
Reviewed on September 7th at the 2011 Toronto Int. Film Festival – Special Presentations Programme
105 Mins.