If There Be Thorns: A Road Trip to an Almost Imperceptible Romance in Graceful Debut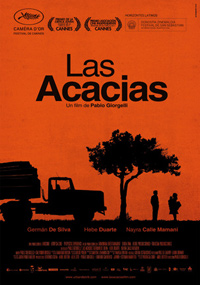 For his feature film debut, Pablo Giorgelli has created a slow burn road trip film set almost entirely within the confines of a truck cab. With limited characters and settings, and absolutely no music, Las Acacias is nearly a silent film with large chunks of time passing and nary a word uttered. But despite these absences, a deliberate and painstaking portrait of longing and love threads itself quietly between its two main characters, to realistic and moving effect.
Rubén (Germán de Silva), a lonesome truck driver is about to haul lumber from somewhere in the Paraguayan countryside to Buenos Aires. We learn he has been asked by his employer to provide passage for a woman, Jacinta (Hebe Duarte) and her daughter on this haul. With smoke rising from the scorched earth matching the fumes of Rubén's cigarette smoke, the solitary man doesn't utter a word until he asks the woman he's observed trotting towards him if she happens to be the Jacinta he has been waiting for. Unhappily, he realizes that her daughter, Anahi, is only five months of age, irritated that this long trip will include a crying baby. For her part, Jacinta seems equally uncomfortable with this exchange, but seems to not have any other options to get to her cousin to find work in Buenos Aires. At first tediously sitting together in silence, the two travelers, with help from the mostly smiling baby, slowly begin to learn small details about each other's lives, though both seem reluctant to reveal too much. Instead, all three passengers tend to bond nonverbally and one on one at various times throughout their trip.
At first, Las Acacias seems like it's going to be dealing with immigration laws and customs in South America, but besides some topical details on the outset of their trip, this is quickly left aside. Instead, this is a neo-realistic exercise that could front as a documentary about human interactions in every day circumstances. Certainly there's an initial tediousness to the film, which soon develops a rhythm of its own, with Rubén and Jacinta at first placed separately in the frame, but then, as they become more comfortable with each other, one or the other appears in the back or foreground of the shot. While the film may not be suited for the impatient, there's a grand final scene that reaches an unexpected and rewarding poignancy that makes the whole journey not only a worthwhile experience for us, but the characters as well. But the limited narrative wouldn't go anywhere if it weren't for the subtly crafted performances from the two leads.
In particular, Germán de Silva is excellent as an ornery loner, initially opposed to the trip, but slowly warming up to Jacinta and her child. As we learn that he is an absent father to a son somewhere, these small details speak volumes when he at last unleashes a tender expression, or even a long pause when he observes Jacinta bonding with a fellow Paraguayan at a rest stop. An Acacia is a genus of trees known for its thorniness and difficulty in germination and it's not hard to see that Ruben, aligned with said tree, might have found his prime climate.