Reviews
My Brother the Devil | Review
Better the Devil You Know: Hosaini's Debut a Vibrant Urban Street Drama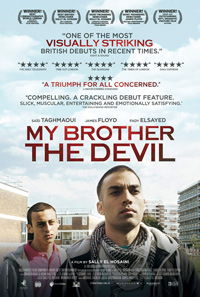 Sally El Hosaini's directorial debut, My Brother the Devil, takes the overly familiar gangland drama genre and manages to make an engaging and effective film with well written characters and striking visuals. Thankfully, due to considerable awards recognition on the festival circuit, her film will see a theatrical release stateside, which isn't always the case for similarly themed titles, as even Ben Drew's street drama iLL Manors has yet to be released here. However, Hosaini's film, which manages to avoid sinking into a swamp of miserabalism, also doesn't shy away from the shocking violence that infiltrates the lives of youth in London's East End, and treats us to a finale that is neither tragic nor overtly positive.
Growing up in a traditional Egyptian household on the streets of Hackney, brothers Rashid (James Floyd) and Mo (Fady Elsayed) couldn't be more estranged from their bus driver father and doting mother. Mo, who still seems to be figuring out who he is, looks up to his older brother, who happens to be a small time drug dealer with local gangs. While Rashid naively tries to keep his brother close by his side but away from gangland activity, he mistakenly sends Mo on a run he proves hopelessly unequipped for, his drugs and shoes stolen by the younger members of a rival gang. In the midst of retaliation, Rashid's closest friend, Izzi (Anthony Welsh), is brutally murdered, forcing Rashid to seek a way out of this lifestyle. He finds salvation in the form of one of Izzi's clients, a photographer and ex-gang member, Sayyid (Said Taghmaoui), who hires Rashid as an assistant, much to the joy of Rashid's parents, who delight that he has found an older mentor that is also Egyptian. But Rashid's growing friendship with Sayyid isolates him from his younger brother, who only starts to become more involved in nefarious activities. And then surprisingly, there's a twist that rears the heads of ignorant social attitudes that may prevent Rashid from exploring the new life he's trying to create for himself.
David Raedecker won an award for best cinematography for his work on this film at the 2012 Sundance Film Festival, and it's not hard to see why with his constantly roving camerawork, capturing moments of simple beauty and affection as much as he does shocking snaps of brute violence. More impressive are the well written characters from Hosaini, and portrayed by actors that manage to transcend some of the more clichéd or predictable moments into believable and interesting scenarios.
The film is anchored by the performances of the actors playing the brothers, in particular, James Floyd. The presence of Taghmaoui is a brilliant accent, and those familiar with his role in La Haine can't help but be reminded of that film when he reveals details about his checkered past and the whereabouts of his friends from the old days. There's a significant twist that may be obviously apparent considering some of the venues it's played and awards it's received, but whether or not you're aware of this, My Brother the Devil is a richly observed film depicting the overly tried and true travails of life on the streets. Best of all, it manages to set itself apart from similarly themed efforts.