Walk with him: Neil Young makes Canada shake in Demme's concert film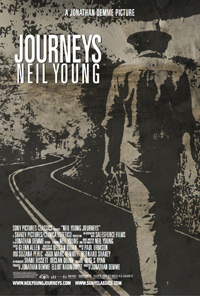 On R.E.M.'s farewell masterpiece 'Collapse Into Now,' Michael Stipe channels the deep need of human beings to make sense of their lives through the music they listen to when he petitions, "please ask Neil, I need to pow-wow now." The great Jonathan Demme ('Something Wild,' 'Philadelphia,' and the often misconstrued 'Rachel Getting Married') does his part in fulfilling this request in 'Neil Young Journeys,' a live concert doc featuring Young's electrifying, electrified 2011 solo performance at Toronto's Massey Hall, coming a full 40 years after 'Live at Massey Hall,' a quiet acoustic show from Young's early folk period, was recorded.
On stage, Neil's guitar growls and groans, quakes the tectonic plates, and imperils the planet's orbit. Interspersed with the brilliantly sound-mixed concert footage, Demme unobtrusively inserts casual scenes of Young revisiting his hometown (yes, "a town in North Ontario") and wryly sharing some childhood stories. Some are guilelessly poetic (portrait of the artist as a young boy wheeling his red wagon down to the creek each day to gather fish and turtles), and others self-mocking, as when Young spots the exact place where he lit a firecracker in a turtle's ass. The 'Greendale' director smirks: "My environmental roots don't run that deep."
In concert, Demme shoots Young in lengthy close-ups, catching the predator's brow perched possessively over seized, seething eyes, just as Hitchcock captured the possessed gaze of Jimmy Stewart. In some unconventional "mic cam" shots, Young seems to be tipping over us, invading our space, snarling at us, smearing our frame with spit, wandering in and out of our view, evasive, not giving a shit what you do or don't see of him.
Many of the songs are from the raw, powerful 2010 album, 'Le Noise' (named after producer Daniel Lanois, whose career masterwork might be Bob Dylan's 'Time Out of Mind'). The bone-rattling low chords on 'Peaceful Valley Boulevard' carry more eschatological thunder than a dozen fad apocalypse movies (excepting Abel Ferrara's beautiful '4:44'). Another show highlight is the song 'Hitchhiker,' a stations-of-substance-abuse autobiography that includes one of the great lines encapsulating our anaesthetized, fraudulently self-satisfied era: "The doctor gave me valium, but I still couldn't close my eyes." Neil is a protest singer, but he never lets himself off the hook for his sins: In 'Down by the River,' there's a grim conviction to his confessional howl, "I shot MY BABY!"
During 'Ohio,' Demme includes the names and personal home photos of the Kent State victims memorialized in Young's song, whose angry message has become obscured over the years due to its sing-along chorus and ubiquitous presence on classic rock radio. This intimate cinematic interpolation is repeated later during 'You Never Call,' written after the death of one of Young's longtime collaborators. Demme subtly emphasizes that Young is a true humanist: his elegies are as heartfelt for strangers as for friends.
On R.E.M.'s final recorded song, 'Hallelujah' (not a Cohen cover), Michael Stipe dissolves the self and disperses it outward into all things: "I am the tide." But in 'Journeys,' Neil Young proves he's still the ocean, and the giant undertow.