Operation Rehash: Hoon-jung's Sophomore Film Glossy Entertainment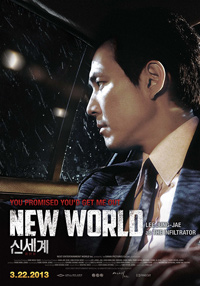 Director Park Hoon-jung, perhaps best known for his screenplays for a pair of 2010 titles like The Unjust, and particularly, I Saw the Devil, attempts to tackle the gangster genre with his sophomore directorial effort, New World. While the proceedings are admittedly more exciting than the overtly generic title may imply, and Hoon-jung manages to maintain a complicated number of narrative strands and wide array of characters without resulting in a convoluted hodge podge as evident in some of his previous works, there's the nagging feeling that there's nothing innately new and fresh about where he takes the narrative. That said there are a handful of extremely entertaining sequences and more than enough posturing to satisfy hardcore fans looking for a G fix.
Chairman Seok, the head of the notorious Goldmoon crime syndicate, dies in a fatal car accident before the police force can nab him for his illegal activities in an intricate case they've been building, which forces Police Chief Kang (Choi Min-sik) to assign his undercover agent, Ja-sung (Lee Jung-jae), who has infiltrated the syndicate for the last eight years, to add another two years to his assignment. There are two likely candidates to usurp the head of the Goldmoon syndicate, Jung-chan (Hwang Jun-min), an imbecilic and ridiculous crime lord who Ja-sung works under, and the more imperious Lee (Sung-woong Park).
While Ja-sung's pregnant wife has a child on the way, through a series of events due to the machinations of Jung-chan and Lee as they each make moves to acquire power, he discovers his alliance with the law is tested by the surprising bonds and connections he's established nearly a decade as a gangster.
Hoon-jung's New World, so named for the law enforcement nickname for their undercover operation, certainly doesn't present us with any new angles in the gangster potboiler, but he certainly shows a flair for dark humor and an effective use of violence, which includes some bloody torture sequences and pouring cement down the throats of living victims. While Hwang Jun-min is saddled with playing the sleazy clown stereotype ("I don't need a loan, I'm rich," he says to a telemarketer calling his cell phone) and many of the comedic moments are generated by his ridiculousness, one can't discount the highly enjoyable Choi Min-sik, whose hang dog visage should be readily apparent for those familiar with his turn in Park Chan-wook's brilliant 2003 film, Oldboy.
As per usual in the genre, female characters take a back seat here, and are the least effectively written in the plot, especially Ja-sung's pregnant wife, who has dastardly secrets of her own that aren't quite fleshed out appropriately, only bloating the two hour and fifteen minute running time, of which it's saggy middle could have been edited considerably. True, there's an enervating and high octane extended climax of events, peppered with a host of characters making all the right moves at all the right times, but this new world can really be chalked up to same shit, different day.