The Descent: Tobias Brings Recently Discovered Holocaust Tale to Light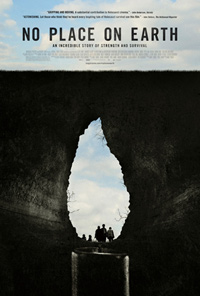 For her directorial debut, producer Janet Tobias documents a harrowing discovery made by a spelunker in the early 90s with No Place on Earth, which makes for one very fascinating and incredible Holocaust survival story. Through a series of interviews with survivors of this living history as well as combination of narration from one of the survivor memoirs and various physical reenactments, Tobias paints a portrait of perilous survival that's difficult to comprehend.
In 1993, spelunker Chris Nicola discovered evidence of human dwelling in the expansive gypsum caves of Ukraine. Evidence seemed to indicate that a group of people had lived in them for quite some time. In asking the locals for information, he found that most people were unwilling to speak with him, which was no surprise due to the current political climate, with a group of people coming out of the dissolution of the Soviet Union. But what little bit he could find out seemed to point to the cave dwellers as most likely having been Jews that had been hiding from the Nazis.
Nearly a decade later, Nicola discovers information that brings him to the account of 28 members of the Stermer and Wexler clan who had lived in the caves for 511 days. Through the diaries of the matriarch, Esther Stermer, and the last living survivors of both clans, Nicola was able to piece together this extraordinary story of survival.
Tobias frames the tale with interviews from Chris Nicola to set the groundwork for his discovery. In between interview segments of a few of the surviving members, she inserts many moments of dramatic reenactments, with people struggling claustrophobically through tight, dimly lit cave passages. Intriguingly, we learn of the system the families develop to get supplies, with a male assigned to gain goods for his own group, taken from the surface by night. Not only did they have to elude the Nazis, but the anti-Semitic villagers that had once been friends and neighbors.
In all actuality, the Stermers had been in two separate caves, their first hiding spot raided, which resulted in the loss of some of their members. Bravely, some of them were able to slip back into the cave as the Nazis marched them out. It was their second hiding place that held them for the longest time, more secure and remote than the first. Nicola's accounts are revisited, culminating with a finale that sees him taking the healthiest surviving members of the Stermer clan to return to the cave, some of whom bring some of their adult grand children along. It would be surprising if this wasn't eventually dramatized for a feature film, even though it may put some in mind of Agneiszka Holland's 2011 film In Darkness, which recounts the tale of a group of Jews hiding in the sewers of Lvov, Poland. While there's not much that sets No Place on Earth above a well constructed program one would see on the History Channel, it's a compelling tale from a horrific period of time.