Sopranos creator Chase stumbles with 60s coming-of-age rock-n-roll tale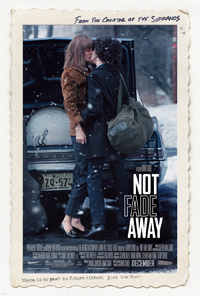 Trading off coming-of-age clichés with band-on-the-rise clichés, 'Sopranos' creator David Chase's 60s-set Not Fade Away follows kids in suburban New Jersey trying to make it big in rock-and-roll. Protagonist Douglas may have Dino Valente's haircut, but he's no Dino Valente: The band's lone original single sounds like a second-tier Gin Blossoms song. Maybe you'll dig it, but it doesn't particularly sound authentic to the period. Curated by music producer Steven Van Zandt, a lot of money was thrown at the soundtrack of classic rock staples (Rolling Stones, The Kinks, Bob Dylan, etc.), but a deficit of thought was supplied to creating multi-dimensional characters, or to devising a cinematic concept distinguishable from rote cable TV. David Chase was falsely credited with bringing a movie sensibility to television, but the boxy, uninspired Not Fade Away is irrefutable proof that Chase has little in the way of cinematic instincts.
Douglas (John Magaro) is in high school in the New Jersey suburbs in the 60s, watching the Rolling Stones on the Dean Martin show, playing drums, and lusting after the hot popular girl. But when the lead singer of his local garage band (Jack Huston, the sniper with the mask on 'Boardwalk Empire,' continues to show real talent worthy of his grandfather's name) accidentally inhales a joint, Douglas is pressed into vocals duty, and — maybe? — a star is born. But can the band navigate in-fighting, egos, and the vicissitudes of the business to make a long-shot success of themselves? And is making it what they really want anyway?
Perhaps sensing the encroachment of clichéd territory, the movie lets the momentum of the band-trying-to-make-it story fizzle. But Chase has no adequate dramatic alternative to replace it with, outside of Douglas' whiny uncertainty about whether or not he should go to film school in California.
Chase struggles to create any characters that are more than cut-outs, but he's particularly clumsy in writing women. Bella Heathcote's Grace (aka, the girlfriend) is meant to be central to the story, yet she's never more than a cipher being people-moved through the movie. Dialogue from the other (male) characters tells us what to think about her: She's a slut, she thinks her boyfriend has a nice voice, she believes in him, she's pre-veterinary, she's a slut once again.
Douglas' mother is never more than a carping nag, while his iron-fisted blue-collar father (James Gandolfini) ultimately reveals reservoirs of feeling and sensitivity. The mother is one-note, played for laughs; the father is long-suffering, sacrificing a chance at love outside his marriage because of his noble sense of duty. Maybe children of problematic marriages have to take one side over the other as a coping device, but art and distance should not ascribe to such easy formulas.
Regardless, Gandolfini gives the film's best performance. The movie's one great scene is a dinner at an Italian restaurant where Gandolfini confesses his love for another woman to his son. We are as taken aback as Douglas at this intimate, apologetic revelation — who thought Not Fade Away would tap into any uncalculated emotion?
Reviewed on October 7th at the 2012 New York Film Festival –
112 mins