OldBoy | Review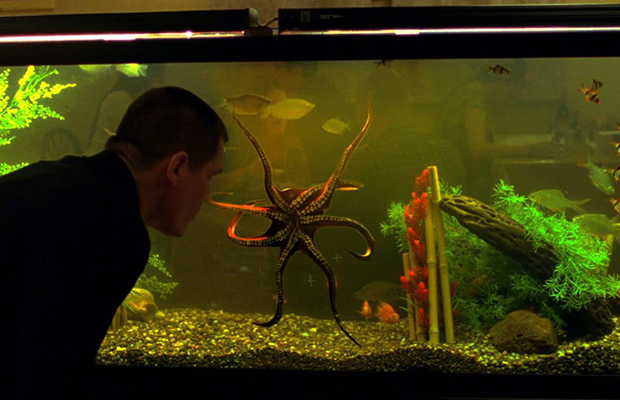 Let's Do It Again: Lee's Reimagining Imaginative Enough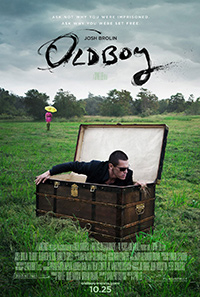 Call it what you will, reimagining, reinterpretation, or remake, Spike Lee's Oldboy can't escape its describing root word, even while this retooling of the much celebrated 2003 Park Chan-wook for the Western intellect does have some minor differences. Those familiar with the original should perhaps be envious of those that will be coming to Lee's version with an undiluted palette, for it's an enjoyable work of its own, less hyper stylized, with certain changes that make it more viciously pulpy and, surprisingly, seedier.
It's 1993, and Joe Doucette (Josh Brolin), an alcoholic, womanizing advertising executive suddenly finds himself locked in what appears to be a secured hotel room without windows, where Chinese dumplings and pints of vodka are served to him while he's monitored by cameras in the room. He will be stuck there for the next 20 years.
He's unsure of who put him there or why, but he seems to have a long list of people he's wronged. A television set lets Joe catch glimpses of what's going on in the outside world, while a television series called "Mysteries of Crime," provides updates on his daughter, Mia (Joe was framed for murdering her mother and his disappearance seems highly unusual). Miraculously, as he tries to escape, he wakes up in a trunk in the middle of a field, clean shaven, dressed in a suit, with a mysterious cell phone and all the letters he had written to his daughter over the years. Doucette takes off to see his only friend Chucky (Michael Imperioli) to help him discover who did this to him, and along the way he befriends a young woman, Marie (Elizabeth Olsen), who works for a mobile medical outreach program. It's not long before she too is enmeshed in Doucette's intrigue.
Surely, the film has enough distinctive flair to stand on its own, though what Lee and screenwriter Mark Protosevich consider to be major changes aren't really relevant considering that throughout most of it, you'll be recalling the dead ringer plot spoilers. A wise choice to include an homage to an infamous Octopus eating scene by simply giving us an elegant shot of the cephalopod seems classy, but a rehash of Chan-wook's famed fight sequence from the first film feels as flimsy as the 2x4s broken like twigs over Brolin's body, divided as it is here into different levels a la a Kill Bill video game.
For his part, Brolin is a likeable successor to Choi Min-sik (note that the project was originally set to star Will Smith), and shares a striking resemblance with Lon Chaney, Sr. His developing relationship with Elizabeth Olsen's Marie is believable and engaging, though a sloppy Michael Imperioli seems forced. A campy, yet highly enjoyable turn from Samuel Jackson results in one of the film's more deliriously grotesque moments. Also campy, but more grating is Sharlto Copley, shackled into one of those effete antagonist roles where meticulous hairdos (a la Guy Pearce in Lawless) herald sexual transgressions. But, as with his hyperbolically evil turn in this year's Elysium, Copley is at least committed to playing diabolical scoundrel to the hysterical hilt.
While certain details have been changed to tweak the film's narrative outcome (including a different spin on the ending), a matter of taste will determine your preference for this newer version. As far as feeling like a Spike Lee joint, Oldboy certainly doesn't bear the same degree of the auteur's signature flourishes, even compared to his other mainstream effort to date, Inside Man (2006). More notable would be DP Sean Bobbit's work (who has been cinematographer on all three of Steve McQueen's features), turning New Orleans into a dark, blue-hued neo-noir, a locale which causes one to muse about what would have happened if Hurricane Katrina had hit the building of captives housing Doucett. But even with its technological changes and insistence on making the narrative more logical and realistic (the absence of the surreal is exactly what lends the tale a rather tawdry, dime-store novel vibe), Oldboy is still a unique tale of isolation and revenge, and the effects these states have on the human mind.
It is a nightmare about consequences and the absence of any real peace or forgiveness. The unhinged Adrian quotes Elisabeth Kubler Ross, "I believe that we are solely responsible for our choices, and we have to accept the consequences of every deed, word, and thought throughout our lifetime." Our misdeeds are like hooks forever pierced to the past, and every moment brings the possibility of more reparation—to be forever relived and repeated and re-imagined and remade. Ere goes, Spike Lee's version is exactly what it sets out to be, an entertaining American version of Chan-wook's original film.
2.5/5 Stars