It's A Celebration: Making Internet Celebrities Out Of School Children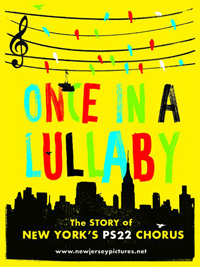 On the festival circuit earlier this year we were given the wonderful opportunity to see Brooklyn Castle, a prevailing doc about the power of passionate educators within inner city public schools that don't discriminate against the poor or unrefined. By interlacing stories of personal strife and the overarching struggle of a talented chess team against budget cuts and the best chess players in the country, the film achieves so much with seemingly so little. Unfortunately timed, Jonathan Kalafer's debut feature doc Once In A Lullaby: The PS22 Story follows almost the same narrative, chronicling most of a year with the PS22 Chorus, a group of vocally talented fifth graders from the largest elementary school in Staten Island. Where Brooklyn Castle harnesses heart and passion to raise awareness of the power of public schooling, Once In A Lullaby uses these same strengths to celebrate public notoriety over personal strength and ardent education.
Back in 2006, Gregg Breinberg started documenting the progress of his young students by posting videos of them singing popular songs on YouTube where they quickly grew a remarkably large following. Over the next few years, Breinberg was able to garner the attention of many celebrities including Tori Amos, Stevie Nicks, Rihanna, and many more, performing at all types of events and landing guest spots on major recordings each year. Kalafer's film features the PS22 2010/11 class after they were invited by Bruce Cohen and Anne Hathaway to perform at the 83rd Academy Awards ceremony, and the tiring effort to prepare for the monumental event.
What's incredible about Breinberg's amiable young singers is that despite the fact that the majority of them don't possess any truly extraordinary talent, as a group they deliver whole hearted performances that can induce goosebumps. There are indeed a few standouts that really do have some pipes, those nabbing many of the integral solos, but most of the kids have purely just fallen under music's mysterious spell, giving themselves over to the performed songs thanks to Breinberg's inspired teachings. He believes that music is an emotional full body experience that comes from within to convey feelings that can't be put into words, and if the film does nothing else, it proves his methods work wonders. Together the kids recreate the hits of Katy Perry, Jay-Z and others with simplified chordal layering and joyous animation that gives them a charming benevolence and unquestionable confidence that is very rare in youth choirs, and it is all due to Breinberg's own love of music and his need to pass this mirth on to his appreciative students.
For all the hard work and simple love of music that is portrayed, the film lacks the purity that comes across in their stripped down YouTube videos and has made the troupe so beloved. Kalafer displays a hard working group of kids lucky enough to strike minor fame at an early age, but this juvenile popularity seems to be unintentionally warping the motives behind the chorus's existence. While most students join the group for their unabashed love of music, some now join knowing the reverence of the group, really just hoping to mingle with stars or see their own faces on television, and instead of shying away from this idea, the film seems to embrace it, and almost promote it. This is obviously not exactly what Gregg Breinberg intended when he started posting videos of his students online, but he's created a program that has gleaned the attention of the world. Here we get an inside look at the experience of being a part of the group, but if you really want to see why these genuine young performers have become so well known, it's best to stick with YouTube.