Maiwenn's Docudrama Packs an Emotional Wallop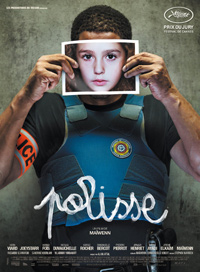 French actress, model, and director Maiwenn's latest film, Polisse opens with a disclaimer that the film is based on actual scenarios experienced by the Parisian CPU (Child Protection Unit). Having assembled some of France's most versatile performers (in particular, some very underrated actresses), she has created an emotionally visceral experience that definitely won't fail to leave an impression, whether you appreciate it or not.
The film begins as a fast paced drama about the daily routine of the CPU. As we watch the unit arresting pedophiles, busting pickpockets, chasing after abusive mothers, interrogating teachers, victimized children, and homeless parents, we get a character study of each member of the CPU. The extremely volatile Fred (Joey Starr) is in the midst of separating from his damaged relationship with his daughter's mother; Nadine (Karin Viard) is divorcing her adulterous husband, egged on by her intensely distant and cold partner, Iris (Marina Fois), a woman trying to get pregnant, but battling her own insecurities with anorexia. There's a bevy of other supporting characters with their own peccadilloes cycling through the film, including some compelling turns from Jeremie Elkaim, Nicolas Duvauchelle, Sandrine Kiberlain, and Frederic Pierot. Uniting the narrative arc is Maiwenn as a photographer working on a project concerning the work of the CPU, at first only serving to document the units' activities on and off the clock before becoming passionately involved with Fred. Facing terrible facets of humanity on a daily basis, the members of the CPU support each other with a fierce sense of camaraderie. But when friendships and bonds are tested, their ferociousness often implodes within the group.
Scripted by Maiwenn and Emmanuelle Bercot (who also stars), Polisse is a great example of ensemble acting combined with strong writing and directing. While many of the key players get a major emotional outburst "scene," these often, among with a few choice other scenes, involving abortion and the separation of a child from his homeless mother, are acute punctuations of tragic emotion that will stay with you long after the film finishes. While the cast is uniformly good, there's three fantastic turns on display, from Joey Starr, Marina Fois, and Karen Viard. Laced with moments of black humor, it's clear that there's little hope to hold on to for some of them, and almost nothing positive to look forward to.
However, the film's greatest distraction is Maiwenn, who cast herself as a photographer shadowing the CPU. While it may be true that she initially became inspired to make this film after watching a documentary that motivated her to "intern" with the CPU in real life in order to get a feel for their profession, her presence here seems rather forced and unnecessary, like some spectre doubly haunting the frame from in front of and behind the camera. True, as the film progresses she develops a romance with one of the characters which does serve to provide a positive distraction from all the daunting misery we're being faced with at every frame, but clocking in at a little over two hours, it really wouldn't have hurt to cut out her character as the framing device. As it stands, Polisse is a finely wrought piece of compelling cinema, and certainly demonstrates that in the director's chair, Maiwenn is someone to watch out for.