Lars Von Trier Would Weep: Scafaria's Roadtrip Romance Facelifts Apocalypse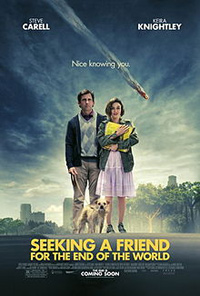 Old Hollywood studios had it good. Between two World Wars and countless other miseries (like stagnant marriages, repressed housewives, the ultra masculine matinee idols, lack of readily available information and less advanced modes of communication and transportation) sure made love something you sank your teeth into when you think you found it. Love conquers all, but only when there's something to conquer, like the abusive spouse, Hitler, or cultural taboos, perhaps. Wartime romance was a boon of the genre, an unsinkable formula, until war became a divisive political agenda. Think Waterloo Bridge, either the 1931 or 1940 version—or how about any number of Douglas Sirk's sudsily magnificent melodramas, centered on other elements keeping lovers apart? In today's modern world, writer turned director Lorene Scafaria has tapped into the ultimate obstacle for two young lovers in love with her debut, Seeking a Friend for the End of the World, with said predicament in title. Lifting a story arc niftily from many a horror or Sci-Fi flick, Scafaria retools modern trappings with old formulas (not unlike several 1990s rom-coms remade from classic film noirs) for mostly enjoyable effect. Just as long as you don't look at it too intently. Under close examination, you may recoil in disgust.
When it's been determined that the last attempt to avoid collision with a 70-mile-wide asteroid has failed, it's announced that the world, as we know it, will be coming to an end in the next 21 days or so. Once announced, the unhappy wife of insurance salesman, Dodge (Steve Carell), immediately leaves him. As he mourns the loss of his wife ("Ironically, I got married so I wouldn't die alone," he remarks), his friends (Rob Corddry, Connie Britton, Patton Oswalt) engage in bucket list inspired drugs, alcohol, and off-screen orgy activities, trying to hook him up last minute with the single and desperate Karen (Melanie Lynskey). Avoiding that, he spends time rummaging through old photographs in his apartment, remembering that the love of his life was his high school sweetheart, Olivia. But then fate plays one last hand with Dodge, and he meets his sobbing neighbor, Penny (Keira Knightley), upset that she has missed the last flight to go see her family one last time in Britain. She's a serial monogamist, unhappy with everyone she dates, including the man she just dumped (Adam Brody). Dodge and Penny bond, and he takes in a stray dog, which is named Sorry. When a dangerous raid from end of the world pillagers threaten their safety, Dodge and Penny abscond, with Dodge promising that he knows someone with a plane to take Penny to Britain as long as she drives him to meet his old flame. As multiple obstacles get in their way, the two begin to realize that they may have found what they've been searching for.
Scafaria, whose first penned feature was the abysmally pedantic 2008 film Nick and Norah's Infinite Playlist, basically takes Melancholia and makes it a romantic comedy. Except that, whereas aforementioned wartime romance always banked on the possibility that its lovers could survive the war, here, they're all going to die. Which means, there's an unforgiving somber tone to the second half of Seeking that annihilates any possibility of making a budding romance seem anything other than an off-putting act of desperation. The use of classic 80's tracks accompanying unhinged adults injecting heroin while they Wang Chung only enhances the gimmicky one-trick tone that gets old quickly (not to mention, uncovering plot holes aplenty), but it's Scafaria's ridiculously emotional manipulation of "The Air that I Breathe," the 1974 Hollies hit, during the "true-love-has-hit-full-stride" montage that really overdoes it.
Steve Carell gives an understated performance, no stranger to spot-on melancholy characterizations, though it's unfortunate that Dodge feels underwhelmingly underwritten. As for Keira Knightley, who manages to shine brightly when cast correctly or capsize a project completely (yes, A Dangerous Method), proves mostly game, though she has a tendency to overextend herself when attempting to accentuate the extroverted nature of her daffy, sleeps-like-the-dead, British import. Her contrived obsession with records and the conveniently used tracks from some of them happen to feel a little like Dodge and Penny's Limited Record Collection. Scafaria does manage to subdue us with a few carefully placed scenes, such as Dodge's reunion with an estranged family member that feels realistic and heartfelt. But as a romantic comedy, with a marketing strategy that looks like Simon Pegg's face should be popping up behind our doomed couple in the poster, Seeking fails on all counts. Both Dodge and Penny reference how troubled they are at the prospect of being alone (not to mention that his last ditch effort is, after all, to seek a high school girlfriend for some last minute canoodling), so it's not a surprise that, knowing time is running out and sharing no emotional baggage, they decide to glom on to each other and experience one last flame of romantic emotion before human voices wake them and they drown. But Scafaria's formulaic romance is nothing more than a mendacious fabrication. Love has never seemed so empty, futile, and cruel.