Batmanglij Makes you Hear the Sound and the Fury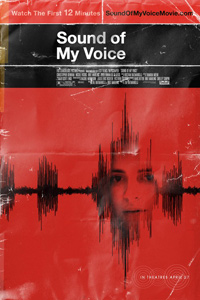 Between moments of oddly comic happenings, there are such morbid, chilling, and delightful instances in Zal Batmanglij's debut, Sound of My Voice, one can't help but see that a well written narrative, when paired with the right talent, perfectly captures brilliant moments of movie magic. Batmanglij (brother Rostam is a bandmember of Vampire Weekend) co-wrote the film with actress Brit Marling, and together, they've created one of the most absorbing and impressive films you're apt to see this year.
The film opens with Peter (Christopher Denham) and Lorna (Nicole Vicius), a couple from Silver Lake, going undercover to explore a cult in the San Fernando Valley for a documentary film they're making. We're quickly introduced to Maggie (Marling), the ailing but mesmerizing and enigmatic cult leader, grooming new members of her following in a secret suburban basement, professing to be from the year 2054. Each time they encounter Maggie, Peter and Lorna attempt to smuggle in recording devices, but at the same time, are ever closer to falling under Maggie's uncanny spell. When Peter is assigned to kidnap a young child that Maggie believes to be her mother, both Lorna and Peter have to examine to what degree they may have already been sucked into Maggie's crazy plan and how far they're willing to go.
While Sound of My Voice may sound spectacular, it's quite a meditative and quietly uneasy picture, one fraught with several sequences of queasy tension and many more scenes of discomfort. It's clear that Brit Marling may be one of the most intriguing new figures in the American film scene (she's co-writer and star of both this film and 2011's Another Earth). She commands every frame of film here, her depiction of Maggie terrifying in its grounded palpability, every sentence a calculated, delirious spell. Her glorious mane of golden hair frames her open and candid face and you can't help but want to believe her story is true. Equally compelling are the two leads, (Nicole Vicius is quite an interesting screen presence, her exotic visage reminiscent of the underrated Deborah Kara Unger) in particular, Christopher Denham. One captivating scene sees the cynical Peter being confronted by Maggie in front of the group. She's noticed he is unable to participate in their activities with the same amount of zeal. Reducing him to tears in a matter of moments, the confused Lorna questions their continuation with the project afterwards. Peter says he had to do what he needed to do to survive the moment, but both Lorna and the audience aren't so sure.
Blocked off into to ten parts, Sound of My Voice clips quickly along to an extremely delicious finale. Boasting an excellent soundtrack, a tightly written narrative and noteworthy performances (and a creepy, uncredited cameo from James Urbaniak), Sound of My Voice is odd, funny, and compelling.