Living in a Waking Coma: Brea Beautifully Breaks Hearts to Heal Lives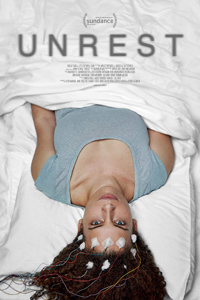 It is a common and frequent occurrence in humans to reaffirm who we are and where our various lives are headed. Regardless of the uncertainty of life, the possibilities that are open are boundless at first glance. In the stories of those who endure Chronic Fatigue Syndrome (or Myalgic Encephalomyelitis), any affirmation of such possibilities is on a sliding scale of mildly manageable to completely impossible.
Jennifer Brea makes her docu debut with her ever-present struggles and triumphs as a chronic sufferer of CFS/ME, and turns her personal tale into a collective consciousness of all those who are forgotten because of the debilitating and oft misunderstood symptoms and struggles of the condition. Unrest is a harrowing battle against the unknown, fraught with sorrow and peppered with moments of joyful victory, but all culminates in a film that successfully opens the floodgates to a world that has long been pushed out of the spotlight it deserves.
Brea was a PhD student at Harvard University when she stricken by what was a serious fever that eventually left her so bedridden that she lost the capability to even use a wheelchair. After numerous specialists echo suspicions that it's "all in her head," she determines to find other answers. Discovering millions of people who are likewise homebound due to horrible fatigue, the film becomes a multi-faceted quilt of personal tales of those who suffer different shades of CFS/ME and those people who care for them.
Initially focusing on the harsh and jarring realities of her disease, Brea then alters her perspective from reactionary to proactionary, investigating the medical history, the centuries-long dumbfoundment of experts, and the ever-evolving consensus on the condition. This mishmosh of facts and opinions are coupled with how this disease is approached in other countries, which is then reflected in the effects on the patients and their families. As the opinion that the road to hell is paved with good intentions is embraced by many of the people highlighted (and by the filmmakers), the film steadily evolves from a journey to answer the basic questions surrounding CFS/ME to a pursuit of a functional cure.
The artful combination of diary videos, beautiful scenic cinematography, stock footage and home movies, co-writer and co-editor Kim Roberts (Merchants of Doubt) enables the filmmaker to paint a three-dimensional image of all subjects alongside her own heartbreaking narration painting the lives of CFS/ME patients as virtually destroyed. Each recorded moment of reprieve and of happiness flutters briefly, snatching blindly at any relief and normalcy, before the sorrowful actuality that overshadows everything in their lives comes crashing back down.
Unrest is not just a thoroughly fervent diary, it is a dissection of a disease that time and medicine seems to forget more every passing year. As the clock ticks away, so do the certainties that anything in the old lives of these sufferers can be regained. However, there also grows a conviction that of what remains and has been gained from this new life, however hard, debilitating and isolating it may be, that it is kept precious and that tomorrow holds hope in one day that this disease can be cured.
★★★★½/☆☆☆☆☆