What Will People Say | 2017 Toronto International Film Festival Review
It Takes a Village: Haq Goes to Distressing Depths in Another Studied Snarl of Subjugation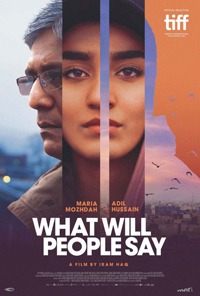 "Obedience is the fruit of faith," observed 19th century British poet Christina Rossetti, an epithet which can be applied to the conditioned rearing of the heteronormative nuclear family as readily as any proscribed religious doctrines. The two realms intersect and enhance the scenario in Iram Haq's sophomore feature What Will People Say, a rather Sirkian title to apply to what showcases the continually toxic treatment of women in religions designed to strip them of any agency.
Haq, who continues to apply universal themes to a particularly specific experience (young Pakistani women living in Norway), concocts a scenario which plays like the incredibly painful and grueling prequel to her well-received 2013 debut I Am Yours, which was submitted as Norway's official submission for Best Foreign Language consideration. A teenage girl acclimated to the progressive socialization afforded her Norwegian peers is forced to live a dual existence until her parents react violently when her flirtation with a local boy is discovered.
Nisha (Maria Mozhdah) is a contented teenager like any other in Oslo, daughter to Pakistani immigrants (Adil Hussain, Ekavali Khanna) keen on seeing their child pursue a medical degree to follow in the footsteps of her older brother Asif (Ali Arfan). Seemingly obedient to her parents and their incredibly conservative values, the discovery of a white male classmate in Nisha's bedroom becomes a dramatic catalyst. When her father demands Nisha marry the boy and Nisha refuses, this rebellion forces her father to go to incredibly extreme measures by kidnapping his own daughter to Islamabad, where she will ostensibly remain with distant relatives until a suitable marriage can be arranged. But Nisha's inability to comply with the deadening limitations for women in Islam results in even more melodrama, leading the young woman to a decision from which she can never turn back.
What Will People Say plays like the angry sister to film to the less conventional I Am Yours, which deals with a Paki woman who shares custody of her preadolescent son while pursuing her professional dreams as an actress and romantic dreams with a screenwriter as she ignores the disparaging disdain of her traditional parents. As we watch her dreams sag like a heavy load, the scenario in which Nisha is situated is much more troubling, and the distressing reactions of her parents recall everything from the infamous Sally Field film Not Without My Daughter to Feo Aladag's stunning debut When We Leave (2010), in which Sibel Kekilli struggles to extract herself from the misogynistic demands of her extended Turkish family in modern day Germany.
The retention of one's cultural identity while living outside of one's native country has marked many a tragic cinematic coming-of-age odyssey, particularly in the increasingly frozen over melting pot of American identity. Haq's film continues to showcase the increasing difficulty of Muslim populations in European (i.e., white) settings, and the ensuing cultural disparity when the inevitable specter of assimilation is neigh.
Nisha's parents are by and large willfully naïve of their daughter's experience, but the reactionary tumult at the discovery of a white boy fully clothed in her bedroom unleashes a consequential fury so absurd (although not unrealistic) it will can hopefully one day be qualified as Kafkaesque. Kidnapped to Pakistan, Nisha begins an ill-advised romantic liaison with her cousin, which results in a traumatic blackmail (recalling the aggressive tactics of Michel Franco's Daniel Y Ana, 2009), and sets us up with Haq's most galvanizing sequence involving father and daughter on a rocky precipice.
Since What Will People Say is, boiled down, an examination of the relationship between a father and daughter, it is this moment which results in the ultimate betrayal, and thus a turning point (or wakeup call) for Nisha (after all, we barely register Ekavali Khanna as her mother, most memorable for an off-the-cuff moment wishing her daughter had been stillborn).
These two are a far cry from the rebellious mother in Afia Nathaniel's Dukhtar (2014), in which a Pakistani woman flees her mountain village with her daughter to avoid marrying her child off to a tribal leader. Performances are all around worthwhile, though the only real emotional complexity exists in newcomer Maria Mozhdah's portrayal of a confused and increasingly distraught teenager and celebrated character actor Adil Hussain as her well-meaning if ultimately disgustingly narrow-minded father.
When Will People Leave ends on the exact inverse of I Am Yours—its estranged central figure being observed, rather than observing, the familial reality she has just abandoned. Haq, once more employing an abstract finale for her heroine, leaves Nisha's fate in the balance—and yet, it's an unerringly triumphant and hopeful statement about a woman refusing to accept a life she didn't choose, and venturing into an unknown promising sanctuary.
Reviewed on September 9th at the 2017 Toronto International Film Festival – Platform Programme. 106 Mins.
★★★½/☆☆☆☆☆