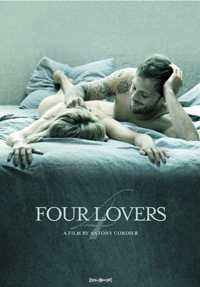 Just a few notches above porn you'll find Antony Cordier's second feature, Four Lovers, an erotic French indie that premiered at the Venice Film Festival in 2011, and details the sexual escapades of a pair of swapping married couples while never truly exposing any of their actual character. Instead of delving into the psychology behind open marriages, the history of how their relationships led to this dynamic, or the emotional turmoil that such events usual conjure, Cordier and writing partner Julie Peyr would rather linger on the naked sculpted bodies of its beautiful four leads without any real intention. Other than a few steamy scenes and a handful of intriguing character details, there is little holding this vacuous entanglement in one watchable piece.
The film begins with Rachel (Marina Foïs), a reticent boutique jeweler, being sweet talked by Vincent (Nicolas Duvauchelle), a tattooed web designer who was called in to work on her site, but their meeting leads to inappropriate convergence and introductions of each others' husband and wife. At their first get together, Franck (Roschdy Zem), a writer and practitioner of shiatsu massages, instantly seduces Teri (Elodie Bouchez), an ex-Olympic gymnast, with his sensitive touch, but what at first seems like instant disaster slowly transitions into one merely waiting to happen. Strangely, when all four parties become aware of each others' sexual adventures, they silently agree to an open pair of marriages, but they are all too afraid to set any ground rules. As each spends more time with each others' partners – having sleepovers, going on romantic dates – conversations wander into personal territory, and tensions at home start to surface, even more so when their children start to interact as the whole crew go out on family outings together. But, like nearly all cinematic open relationships, jealousy can not keep its envious hands idle, and relationships that were once pillars of strength and devotion have been reduced to shadowed rubble.
Within the collapsed goldmine of opportunity that was the concept for Cordier's film, many wonderful ideas were squandered. What is left is a bare bones construction that enables its characters to provide plenty of titillation without any real purpose other than to remind us that open relationships often fail due to uncontrolled jealousy and guilt, but did we really need a reminder of this? Even Nicolas Gaurin's hand held cinematography and Christel Dewynter's editing seem to lack intention. Occasionally the camera is found in trembling movement toward something, but cut off before reaching its final focus point. Sadly, the only thing the film crew seems to excel at is constructing sex scenes with heat.
The Disc:
Although Oscilloscope's English language film catalog is flourishing, each recent release outside of that realm seems to be a minor blemish on what is a nearly pristine release record. Regrettably, Four Lovers is another lemon to add to the list, but that's not to say that they didn't do the film justice for its DVD release. The transfer looks satisfactory, with noticeable grain and adequate detail. Sun bathed bodies look wonderful on the beach, covered in flour, or buried in richly textured fabrics. Though it is never pushed much throughout, the 5.1 Dolby audio track reproduces voices and music without issue. The disc itself comes packed within Oscilloscope's standard recycled cardboard gatefold, held within a sturdy dust cover.
Deleted Scenes
There are eight short deleted scenes here, most of them featuring additional interaction with the three children. It's obvious why most of these were cut for either being too on the nose about suspicion or jealousy. In a completely different vein, one scene involving the death of a cat could have made for some interesting dialog, but within the context of the main story it seems it may just not have made sense.
Theatrical Trailer
Like the film itself, the trailer feels somewhat incongruous. People are interacting with others, many of which are nude. They seem to be having a good time, until ominous waves of guilt and jealousy are felt, but in the trailer, all of these notions are made much more nebulous. It's pretty, but that is its main attraction.
Who's Right? (1950 short film directed by Irving Jacoby)
Based around a vain young gold digger at odds with her controlling, blue collar husband, this short story is almost completely introspectively narrated from both sides of the fence. The film looks into the dynamics of young relationships from decades ago. Its one in a series of shorts based on "Marriage For Moderns" by Henry A. Bowman. The film could use some cleaning up, but it's always wonderful to see shorter film projects from the golden age. Is it a perfect fit with the feature it's supplementing? Not quite, but a welcome addition all the same.
Jealousy (1954 short film directed by Irving Jacoby)
This is another of Jacoby's shorts based on Bowman's work, this time utilizing a more standard dramatic structure. Here, a husband comes home late from work late to an angry, suspicious wife. When botched lies finally come unraveled, the infuriated house wife trashes his dinner and kicks him to the curb. Classic melodrama in beautiful short form. Like the other short, it needs a thorough restoration, as there is plenty of visual noise, sound pops, and drop outs, but it could be worse. This is quite possibly the highlight of the disc.
Final Thoughts:
Looks of longing and a lengthy list of nude scenes don't add up to narrative genius, and unfortunately for Cordier, Four Lovers is basically the sum of just that. There are moments of visual wonder, with sun kissed bodies walking among complimentary greenery, but it doesn't make up for the fact that we don't ever become invested in these characters. We need something to draw us in close to these lovers, letting us feel the turmoil within, but instead all we are offered is a few boobs and butt cheeks.
Film Review
Disc Review