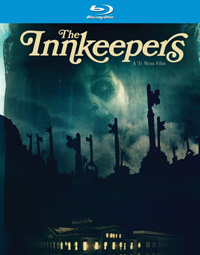 Working within the walls of a genre over stuffed with recycled extremism, writer/director/editor Ti West's horror films are refreshingly retro. Rather than trying to shock his audiences into submission, he takes cues from his classic film making idols, and employs a natural patience that lends itself to character development, and natural tension. His latest bump-in-the-night, the SXSW selected The Innkeepers, follows this tried and true formula by hunkering down in the Yankee Pedlar Inn, a potentially haunted hotel, during it's last weekend of operation.
The only staff on hand are Claire (Sara Paxton) and Luke (Pat Healy), an odd ball pair who are staying in the hotel for its final two days, swapping 12-hour shifts until the doors close for good. Luke's been documenting the hotel's hauntings with hopes of reaping some benefit through his personally made, Geocities style website. As their time together winds down, Claire's own interest in the ghosts of guests past starts to take hold. While they wait for spirits, a handful of live guests file through; an estranged mother and son, an ex-actress turned spiritual reader, and an old man looking to relive the honeymoon he once had at the Pedlar years before. The more Claire listens to amplified silence, the more she hears. Eventually, her, Luke, and all the boarding residents become completely horrified. Whether this is due to the ghost that supposedly haunts the building, or just Claire's heightened imagination is up to interpretation.
It takes a full 20 minutes for any sign of creepiness to be revealed, but it's during that time that we get to know Claire and Luke, their quarks, and the funny relationship they've developed on the job. It is here where West's style is undeniably recognizable. Though the big pay off is in the spooky final half, the director has found something endearing about working for minimum wage, and how people cope with the tedium that often comes with it. Instead of strictly manning the desk or busily cleaning the hotel, the pair of receptionists sit and joke around, go ghost hunting, and drink on the job. West's characters are fleshed out, funny humans that rise about the majority of leading prey that populates the screen in most modern horror.
Not only does he know how to write laugh out loud dialog, but West also knows when to build tension, and how to unleash it in the form of breath snatching scares. For the effortless mood swings, much credit can be given to composer Jeff Grace and sound designer Graham Reznick, both of which have been West's long time collaborators. They tag team the soundscape with a hauntingly lush score, plenty of spooky sound effects, and loathsome undertones that may go unnoticed to the conscious mind, but underneath the skin, unease is creeping in.
Disc Review:
With one of their more substantial features to come out in recent memory, Dark Sky Films has released this film along with a few extra goodies that should at least temporarily satisfy fans. As you might expect, the HD transfer looks nice and crisp. Facial detail is especially exceptional, which pairs nicely against the deep blacks in the basement of the inn. The DTS-HD 5.1 master track boasts a nice variety of spooky sounds the bump out from all angles of your system. Dialog is clean, and the occasional low end is nice and healthy. The disc itself comes packaged in a standard Blu-ray case.
The Innkeepers: Behind the Scenes
This is a quick 7 minute piece with snippets of cast and crew interviews, and as you might guess – behind the scene footage. Pretty standard fare, and slightly brief.
Audio Commentary with Writer/Director/Editor Ti West, Producers Peter Phok & Larry Fessenden, and 2nd Unit Director/Sound Designer Graham Reznick
Here, the group recounts the shoot, telling of stories on set, but also making sure to speak on many of the technical aspects of the production. It's quite a lively conversation. Not a lull to be found.
Audio Commentary with Writer/Director/Editor Ti West and Stars Sara Paxton & Pat Healy
In contrast to the more insightful, tech heavy first commentary track, this one is full of remembered jokes from the set and the occasional dead silence as the threesome think about what to say. Paxton and Healy constantly are joking around throughout. It's funny, and worth a watch, but not as astute as the first.
Theatrical Trailer
Though this probably sold the film to plenty of horror buffs, it unfortunately misrepresents the film. The trailer totally disregards that much of the film is humor based, and story-wise, it gives a little too much up. It looks nice though. And creepy. Plenty creepy.
Final Thoughts:
Horror films are hard to do right, but Ti West has managed several times over to reinvigorate the genre with modern spins on classic staples. He's done bats. He's done cults. And now he's done ghosts, but none of his films feel like rehashed drivel. Thanks to West's original narrative spins, an impeccable sense for tension, and a comedic back bone that helps flesh out his characters, The Innkeepers is one of the best scary movies of the year, but more for it's seamless balance of humor and horror than anything else. If you want a closer look at the Pedlar, you can visit yourself, but I don't recommend staying on the third floor.
Film Review
Disc Review