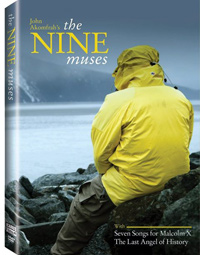 After nearly a decade of focusing his energy on music history television docs, director John Akomfrah has returned to one of his favorite topics, the struggles of minorities, and more specifically here, the wave of immigrants that arrived in the wake of the British Nationality Act of 1948, which was meant to supplement the need for workers post-World War II. Though the subject sounds straightforward, The Nine Muses buries its primary ideas in an avant-garde kaleidoscope of high brow canonical literature, found archival footage, and gorgeously composed, yet strangely haunting images of faceless travelers among the frozen landscape of modern day Alaska. There is something akin to brilliance within, but this repetitive medley of literary legend and immigrant alienation is too dense for its own good.
The film is structured around Homer's epic tale and the assemblage of inspirational goddesses, the Nine Muses, each taking a chapter within the film. Under the clouded twilight that crowns the snow-covered Alaskan mountain range, yellow and blue coated men stare out into the glowing white and frosty blue wilderness. In between, black and white archival footage of boats pulling into harbors, Caribbean and Indian immigrants stepping off of planes and walking through airports bring in the main narrative. Lastly, there are many shots of a single black man sitting among docks, stares straight into the lens with bored disappointment in his bespectacled eyes. Layered over top of these reflections are snippets of literature taken from audiobook versions of such works of literary giants as Shakespeare, Nietzsche, Joyce, Sophocles, and many others. All of these sounds and images rotate, ever changing, but never really progressing into any greater meaning. Even the titled segments, marked by the name of each muse, seem only to add pretension rather than purpose.
What the film really needs is either a thorough trimming or an expanded thesis. When immigrants started poring into the very traditional, white British culture, England didn't exactly welcome them with open arms, but less than half way through the picture, the full extent of this idea had been exhausted, and we are left treading theoretic water for the remaining 45 minutes plus. If the picture had withstood some significant cuts, it could have made for a brilliant short. The only other option to save the film would have been to explore additional ideas surrounding why there was a migrant boom in the first place, whether or not the racial tensions ever really settled, and how these themes truly relate to Homer's Odyssey. The singular idea of alienation amongst the immigrant minorities, though wholly relevant, gets old quite quickly in the thick soup of literary extracts and ethereal imagery the film is constructed of.
The Disc:
Though much of the film is composed of cleaned up archival footage, the enchanting shots of the Alaskan mountainscape were made for a Blu-ray release, but this DVD release received a nice looking SD transfer. Many of these shots suggest celestial origins, with their radiating bluish brilliance, and faceless bodies placed ever so carefully in the frame, and although there are just too many of these shots, they are the visual highlight of the film. All of the archived material is clear, with very little visual noise or decomposition. The disc's audio track is in straightforward stereo, producing all of the many clips with no trouble whatsoever. As supplements to the film, a second disc contains two of Akomfrah's earlier films, and both discs are packaged in a standard DVD case.
Seven Songs For Malcolm X
Sticking to a much more traditional bio-doc style, Akomfrah's 50 minute tribute to Malcolm X builds around interviews with many of Malcolm's confidants, from his widow, Betty Shabazz, to filmmaker Spike Lee, to other activists like Yuri Kochiyama. He still utilizes his signature unsettling shots of characters somewhat frozen in time as a tension builder, but thankfully, his narrative here follows a very clear cut path which allows us to actively connect with the story. Of the three films contained in this package, this is the strongest.
The Last Angel Of History
At 45 minutes long, this bizarro exploration of Afro-technic arts and sciences is a disjointed film that acts as a springboard for dialog on the origins of funk, electro, science fiction within the black community. Presented as though our narrator were hundreds of years into the future looking back, the film moves from topic to topic with the attention of a bored child, picking up a toy and moving to the next best thing with incredible speed and little consideration. With its experimental nature it serves as a warning precursor to The Nine Muses.
Final Thoughts:
Akomfrah likes to cater to pretension, but with The Nine Muses his over indulgence wreaks havoc on his thematic base. If the film was the length of his other two shorts included in the package, it could have been a much more powerful and concise production. As is, it feels like a convoluted run-on that refuses to move the conversation forward. With his selections of pointed literature and poignant archival clips, it's evident the director knew where he was going, but he failed to keep his intellect in check, and his film suffers greatly for it.
Film Review
Disc Review