2013 Sundance Film Festival Predictions: John Krokidas' Kill My Darlings
By Eric Lavallee on November 20, 2012
@ioncinema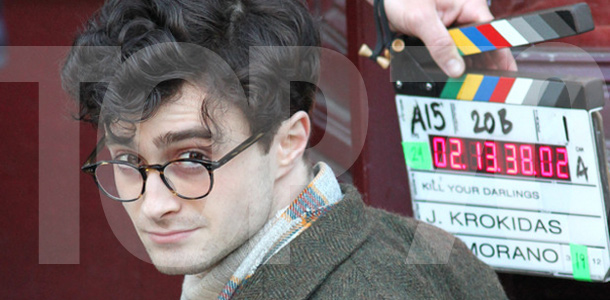 With his last directing credit being short film Slo-Mo (Sundance '02), it's been more than a decade before John Krokidas got to make his feature debut – and on paper, we can say Kill Your Darlings was worth the wait. Produced by a Sundance stalwart in Killer Films' Christine Vachon and photographed by Reed Morano (Sundance preemed Frozen River, Little Birds, For Ellen, Shut Up and Play the Hits), the Sundance connection can be found in several members in a star wattage that reads as such: Daniel Radcliffe, Ben Foster, Michael C. Hall, Jennifer Jason Leigh, Jack Huston, Elizabeth Olsen, David Cross, Kyra Sedgwick and Dane DeHaan. Filming began in March so this is way past the post-production phase and should be a a possible top acquisitions title for the fest, and perfect companion/comparison piece to On the Road and Howl.
Gist: Written by Austin Bunn, this explores poet Allen Ginsberg's (Daniel Radcliffe) life through his relationships with fellow writers Jack Kerouac (Jack Huston) and William S. Burroughs (Ben Foster) and how their bond is tested when a friend is murdered.
Production Co./Producers: Killer Films' Christine Vachon, Benaroya Pictures' Michael Benaroya, Rose Pictures' Rose Ganguzza
Prediction: Premieres Program
U.S. Distributor: Rights Available
Eric Lavallée is the founder, editor-in-chief and film critic at IONCINEMA.com (founded in 2000). Eric splits his time between his home base in Montreal, NYC, and is a regular at Sundance, Cannes and TIFF. He has a BFA in Film Studies at the Mel Hoppenheim School of Cinema. In 2013 he served as a Narrative Competition Jury Member at the SXSW Film Festival. Top Films From Contemporary Film Auteurs: Almodóvar (Talk to Her), Coen Bros. (Fargo), Dardennes (La Promesse), Haneke (Caché), Hsiao-Hsien (Three Times), Kar-wai (In the Mood for Love), Kiarostami (Taste of Cherry), Lynch (Mulholland Dr.), Tarantino (Pulp Fiction), Van Sant (My Own Private Idaho), von Trier (Breaking the Waves)
You may also like...
Trieste Kelly Dunn
"I focused on feeling wronged and that something was taken from her, and that taking it from someone else who deserved it felt heroic and right, despite it being wrong and irrational." Read more

Review

Interviews

In Theaters

18 Apr

11 Apr

04 Apr

02 Apr

28 Mar

21 Mar

14 Mar

07 Mar

28 Feb

21 Feb

Masthead

Facebook