Summer of Our Discontent: Dabis' Sophomore Feature an Uneven Venture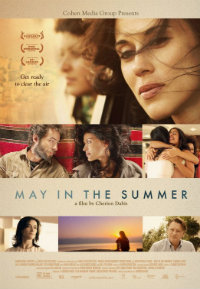 Nebraska born filmmaker Cherien Dabis follows up her well received 2009 debut Amreeka with a cotton candy cross-cultural, romantically inclined melodrama, May in the Summer, this time casting herself in the lead. While the ravishingly beautiful Dabis proves to be an utterly engaging lead performance, her latest, while pleasant enough to sit through, seems tonally uneven, to say the least, and plays as if it's quite undecided about whether it wants to be a socially aware comedy of cultural clashes or, unfortunately, a murky melodrama that pulls out all the subtle stops when it decides to stop spinning.
May (Dabis), basking in the glow of her recently successful first book, has traveled to Amman, Jordan to meet up with her mother, Nadine (Hiam Abbass) and her two younger sisters, Yasmine (Nadine Malouf) and Dalia (Alia Shawkat). She's about to marry Ziad (Alexander Siddig), a secular Muslim, much to her mother's vocal dismay, who refuses to attend the wedding, which will be taking place in only a few short weeks.
As Ziad remains behind in New York, it becomes apparent that May has some doubts about the upcoming exchange of her nuptials. Meanwhile, both her sisters seem to be having significant social problems of their own, while their church obsessed mother still harbors bitter resentment towards May's father, Edward (Bill Pullman) an American still living in Jordan with his second wife, Anu (Ritu Singh Pande). As the date nears and May, caught in the crossfire of her father's new marital dilemmas and her mother's lack of support, not to mention an exciting new connection she makes one night while out with her sisters, must make a decision about whether or not Ziad is 'the one.' And soon.
May in the Summer starts out likeable enough, setting us up for what seems to be a playful comedy of a dysfunctional but loving family. At first, Dabis plays wonderfully as the straight man to her ridiculous mother and offbeat sisters. Alia Shawkat, in particular, seems to be utilized perfectly, until, that is, May in the Summer becomes as mired in doubt about where it wants to go as our heroine is about her feelings for her fiancé.
It quickly slips into an overly familiar melodrama, throwing us into a sort of foreign born It's Complicated scenario that may not feed us as much preposterousness as that film, but still flails wildly, ending predictably and unforgettably. And Alexander Siddig graciously steps in for a mere walk-on as the absent fiance, and one wonders if Dabis wouldn't have been better served to fill us in on him rather than veering off into Hiam Abass' (wonderful as she is here) subplot.
On the bright side, Dabis does happen to make an utterly transfixing screen presence, and let's hope she definitely continues to be on both sides of the camera.
Reviewed on January 17 at the 2013 Sundance Film Festival – US DRAMATIC COMPETITION Programme.
100 Min