A Better Life: Ellis' Latest a Masterful Drama of Sacrifice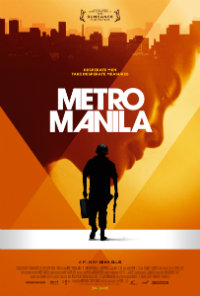 British director Sean Ellis brings us to the Philippines with his third feature film, Metro Manila, a bleak and often harrowing portrait of a family's struggle to build a better life for themselves. Ellis first made headlines for his 2006 debut, romantic comedy Cashback, followed by the international led cast of his oblique 2008 horror film, The Broken, and his latest only proves he's a filmmaker of varying and styles and techniques. Ellis, also serving as cinematographer for the first time, brings us a grim exercise set in the urban underbelly of Manila and it is as desperately moving as it is unpredictable.
When the price of rice drops significantly, poverty stricken Oscar Ramirez (Jake Macapagal) and wife Mia (Althea Vega) decide to move with their two children to Manila to see if they might have better luck in the urban metropolis. However, once there, they quickly become the victims of the multitude of scam artists that easily recognize the naivety of this family from the provinces. As Oscar struggles to find work and a safe place for his family to stay, Mia must take a job a hostess in an erotic club, forcing her children to hole up in a squalid back room at the establishment, where they are lackadaisically monitored. Things couldn't seem worse when they learn that Mia is also expecting another child. But then a stroke of good luck lands Oscar a job as a security guard when someone recognizes a tattoo identifying him as a former serviceman. He is recommended for the job by Ong (John Arcilla), who helps Oscar land the position as his new partner. As Ong begins to secure Oscar's devotion in thanks for all his assistance, Oscar soon learns that Ong has ulterior motives for doing so and finds himself in the middle of a situation that further endangers himself and his family.
The first half of Metro Manila is an abject study in urban miserablism, a migrant story that at first seems to be one horrible sequence right after the other. At the point where Oscar seems to score a bit of unprecedented luck with securing a job, we're already a bit wary of the possible motivations we can easily see in the overly helpful Ong. Sure enough, the true nature of his assistance reveals itself, but not without some further surprises in the multifaceted plot, and the film becomes somewhat of a slow burn heist thriller.
Metro Manila sports some excellent visual sequences, and manages to abstain from veering into overly soapy melodramatics, which it very nearly veers into on several occasions. At its core, the film features a dynamite lead performance from Macapagal, and its worth noting that the screenplay was written in English, with the actors translating their dialogue to Tagalog. If anything, this third feature from Sean Ellis should definitely cement the filmmaker as one of the most chameleonic and intriguing British filmmakers currently working.
Reviewed on January 20th at the 2013 Sundance Film Festival – WORLD DRAMATIC COMPETITION Programme.
114 Min.